Dont u think Cricket is next to Religion.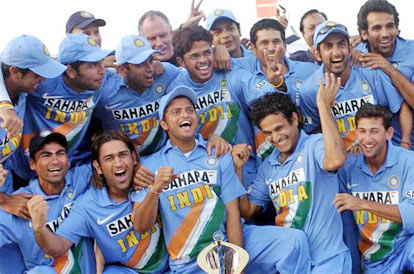 India
February 22, 2007 7:15am CST
In Asian cricket Playing countries. Cricket nothing but religion and cricketers are Gods. What Do U Think About PLs Reply...
4 responses

• India
23 Feb 07
religion is next to cricket according to me.

• India
22 Feb 07
cricket used 2 b next 2 religion but our demi gods have let us down many times now that all r gearing up for the world cup the hype is also going to rise .the change in uniforms , the cricket anthems,the we will do it this time attitude is being seen but will they succeed

• India
22 Feb 07
I agree with u. but lets see. what will happen this time

• India
23 Feb 07
why you have such bad opinion / feelings in your heart. if you see the present team, you will see that all the players are from different region and they are all talented. we should believe that they are absolutely role model and celebriety but not "The Almighty".

• India
23 Feb 07
Its according to only few. Many others beleive its a religion. any how thank u.

• India
22 Feb 07
no...i don't think so.....cricket is a enjoyment for all indians..they all are enjoying the game...