Where do you get your bento accessories?

United States
February 22, 2007 2:04pm CST
I spend a lot of my free time scouring ebay in hopes of finding that perfect bento box or cute little toothpicks and dividers. Where else can you find bento goodies for reasonable prices? Also, do you know of any good ebay sellers to check out? Feel free to post other sites that are not bentos, but have things that you can use in your bentos. For instance, The Container Store has a lot of really great things you can use as sauce containers.
3 responses

• United States
22 Feb 07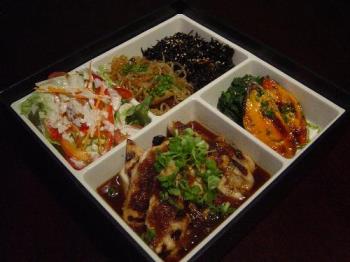 I shop online at a site called Japanesegifts.com. They have a lot of different styles and the prices (at least the last time I was there) aren't that bad. If you have a cooking supply store in your area, check there too. We are pretty lucky, there are several Japanese markets about three miles from us and we stop there to see if they have anything new in.

• United States
23 Feb 07
Ohhhhh, that bento collection is just amazing. I've been slacking off on my bentos this week myself, but now I feel all inspired again. I am off to check out that first website you mentioned. I also know that Jbox.com has a lot of stuff. If I find anything else, I will post over here and let you guys know.

• United States
23 Feb 07
I'm an Ebayer myself. I scour Ebay for my bento stuff. I did go to Uwajimaya's in Seattle when I lived there for my accessories, but I've since moved away and there's no places close by that sells anything I could use. So I stick with Ebay. Which reminds me that I do need to get a new bento box. I keep meaning to and then forget. I'll be keeping an eye on this, to see what links are offered up!

• United States
23 Feb 07
I've also been looking for a new bento box. The problem is that I either can't decide what I want, or I get cranky about having to spend $7 for shipping. I do end up buying a lot of things from this girl: www.bentotv.com Not only does she make little videos that give you fun bento ideas, the website has a link to her ebay shop. Last time I got something from her, she even threw in some extra soy sauce containers. Not a bad deal if you ask me.

• United States
23 Feb 07
Other than ebay, there's another good website called www.jbox.com that sells bento stuff. They also sell anime things and other good from Japan. In the "search" box, type in bento and a whole list will come up. I've also had some success at toy stores that sell Sanrio products.