Spring Training is now beginning...I'm excited.

United States
8 responses

• United States
23 Feb 07
I love baseball and I also root for the Red Sox. I have been a fan since I was very little. Big Papi is my favorite too.. He just seems like such a nice guy (a relative of mine met him and said when he went up to him to say hello he was very gracious..) I hope Manny gets his act together and makes it down to spring training by the deadline they gave him (March 1st).

• United States
23 Feb 07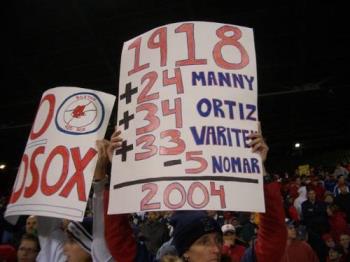 Big Papi does seem very sincere, I think he's awesome. I don't know about Manny...I think it just "Manny being Manny" same sh!t different day...lol I think he'll be there. As for Schilling...well..hmm I can't decide for sure but I think he'll end up staying...I hope.


• United States
24 Feb 07
GO TIGERS!!! I am A huge Tigers fan and they are gonna go all the way this year. Magglio Ordonez is my favorite player, but I am just a fan of right fielders in general. I'm not so sure how I feel about Gary Sheffield joinging our team though. But good luck this year Red Sox, I hope you kill the Yankees!

• United States
16 Mar 07
I'm afraid I root for your baseball nemesis. I love, love, LOVE the New York Yankees. My favorite player is Derek Jeter because he hustles, even if it is a hop to second base - he runs the play out. My favorite picther was always Andy Pettitte, so I'm very happy to see him back in the fold. Now, if only we could get rid of A-Rod. Any takers?

• United States
18 Mar 07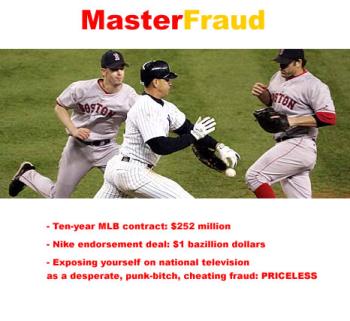 Aaaahhhhh I hate Jeter...lol He always has that smug, "I'm better than the rest" look on his face... He does play well though..hehe I have a picture for you...It's all good. I can't wait for the season to begin. We've had season tickets on the third base line since 1967.

• United States
19 Mar 07
That's not Jeter though, that's A-Rod. When he deliberately threw his arm out to make the ball pop out. Totally classless move. Everything on there is correct about A-Rod, and I try never to say a bad thing about a Yankee, so you know how serious I am. LOL

• United States
22 Mar 07
Oops sorry, I had just got it in an email..lol But I don't like him even more...lol Hey it's all good.



• United States
4 Mar 07
Well good luck this season, thanks for responding.


• United States
24 Feb 07
Yes I did, what a shame right at the start of training. For those that haven't heard. 3B Sean Burroughs has gotten his Mariners career off to a rousing start. Burroughs, it seems, separated his shoulder while slipping and falling on a fishing trip in San Diego late last week. An MRI revealed a sprain of the AC joint and the team now says he'll spend the next week to 10 days rehabbing at his San Diego home, then be re-examined.

• Australia
20 Mar 07
I watched baseball few years ago because my brother liked baseball, I still remember the world series in 2004 when the boston red sox won 4 games in a row to beat the New york Yankees and won the title, it was the only team in baseball history which could have a comeback victory in a seris down 0-3. So are there any big changes for the red sox this year??

• United States
21 Mar 07
I'm awful, as I am not into sports of these kinds. My husband loves them all, not me.

• United States
22 Mar 07
Well baseball is the only sport I really like. I think it's because I was at every game when I was a kid and my family still has the same seats as 1967.. I think it's found it's way into my blood.

• United States
22 Mar 07
Maybe there's a vaccine? LOL! Hey! by-the-way, WAY TO GO JOHNNY DAMON!!!!!! roflmao!!

• United States
22 Mar 07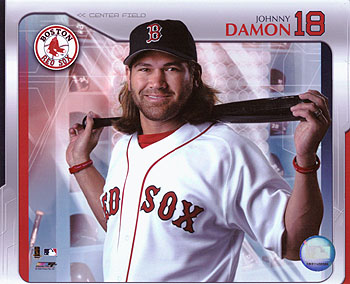 Hey...whatch it you....lol Here is a picture for you..hehe He has just become a lost soul......a mere shadow of his former self...lol



• United States
29 Mar 07
Well, alright I'll let it slide..this time...lol I'll keep my fingers crossed for you..it won't be easy to type but hey, what are friends for...good luck to us both may the best team win. That would be the Red Sox in case you weren't sure. I'm not sure how it happened but my nephew is a big Yankee's fan..lol