The Chocolate Factory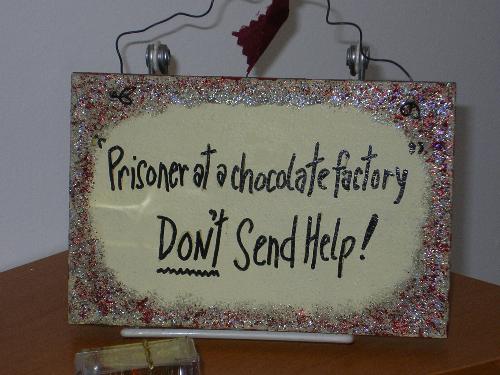 Canada
February 22, 2007 6:51pm CST
The other day, I went along with my son and his class from school on their field trip to the chocolate factory. I was in heaven. This factory had a real chocolate river, like the one in Charlie and the Chocolate Family. I was completely in heaven. I want to rent a room there and move in.
5 responses

• United States
23 Feb 07
Oh..! I wish we had a chocolate factory close to us. Mine and CJ's favorite movie is the original, Willie Wonka with Gene Wilder. I've loved it ever since they first debuted it and when I bought it and gave it to CJ, he fell in love immediately..! One of his favorite parts is the chocolate river as well. I'd love to be able to take him to a factory someday. Whenever we find a large candy store on vacation we stop so that he can spend time looking at all the candies and gets so excited; picking out something he wants.

• Canada
23 Feb 07
I actually didn't know we had a chocolate factory here, or I probably would have taken him myself a lot sooner. It was fun - and the prices were really good in their store. I was amazed. I will definitely go back with both my kids another day.

•
24 Feb 07
I live only a ten minute drive away from the Cadburys factory in Birmingham UK. I recently took my partner's niece to Cadburys World and she loved it. I must confess that I did too

• Canada
25 Feb 07
Mmmm...Cadbury's world....*sigh* I'm comin over for a visit, K? hehe.

• Canada
24 Feb 07
NEver mind renting a room, why not just buy one? ;-) A chocolate river? That would be like the world's largest fondue pot!! I would have loved to have been there with a big bowl of strawberries, and a couple of fondue forks!

• Canada
25 Feb 07
HAH! Ya it was pretty amazing. He did mention that the same chocolate has been pumped through the river for eight years, which made dipping into it a bit off-putting LOL.


• United Kingdom
1 Mar 08
Wow I want to go, I want to go! I love that film Charlie and The Chocolate Factory, but don't do like Augustus Gloop did and fall into the river. In you move in you'll have Oompa Lumpas as your neighbours! Seriously we have a chocolate factory in the UK, up in Birmingham where they make the best chocolate, I'm sure you have heard of Cadbury's. They do visits, that is my wish one day to go there, trouble is I'd be eating their profits LOL! Now you've made me crave chocolate aaaarrrrrrggggh!