the unpredictables !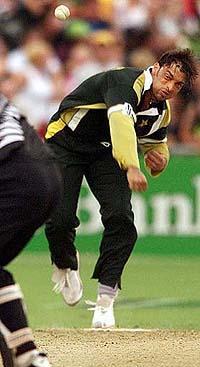 India
February 23, 2007 12:27am CST
Pakistan, who won the 1992 World Cup in Austrailia under Imran Khan, are currently ranked fourth in the world. It was after reaching three consective semifinals that they got to lift the coveted trophy. But what was memorable was the manner in which they bounced back into contention after nearly being terminated. It gives a measure of this talented side's determination. Inzamam-ul-Haq, the current caption, was one fo the architects of that win. Most fo the Pakistan's key players are in excellent form and the team has made remarable progress under coack Bob Woolmer. In their last vist to the Caribbean in 2005, they had routed the host in the one-dayers. This team is talented to doubt, but unpredictable side,who are the top ranked team in Group D Are they really a strongest contender in the league of matches when it comes to win the World Cup? Do post ur opinion,comments
3 responses

• India
26 Feb 07
They are the most unpredictable side alongwith New Zealand. But the most important worry for Pakistan should be without doubt their bowling injuries. How much can Asif be expected to do. And Kaneria, their best bet after Asif is not in the reckoning. A fit Gul, Akhtar and Asif can make a formidable bowling line up. But each of them has his own worries and may not make it to the world cup.

• India
28 Feb 07
Thanks for the comment....You are almost right they are the team which we have watch carefully. Becoz in New Zealand we can clearly see that they are a debutant made a century against the team like Austrailia...It is necessary for the team to perform in the matches becoz they can win matches becoz at a given day they can play very well.... so all the team should be aware of this teams. You can also include the team such as Srilanka and South Africa.....

• Pakistan
24 Feb 07
yea its our habit to bounce back ... like always pakistan is one of the favourite teams ... it is their unpredictability that makes them favourites ... they are one of the strongest contenders ... the vigorous bowling attack lead by shoaib akhtar ... backed by asif and umar gul and also by the leg spinner danish kanaria its terrorizing ... if no one gets injured though :P ... the batting lineup was a bit weak against the south africans but it was south africa ... pakistanis bat real good in west indies ... so take care indians PEACE !!!

• India
28 Feb 07
Thanks for your opinion my dear friend....Sorry to say but the truth is, I would like to recall back the incidence in the WorldCup 2003 It was in the march On Sunday, Vigorous Bowler(shoaib) was knocked all over the park. So Indians have been in the winning against the Pakistan, you can also recall the other incidence i.e. 1996 World Cup Quarter Final Waqar yunis been hit for 6's. And India won the match......

• India
24 Feb 07
yeah buddy.....but de defeated de wi in de carrabiean.......but it should win against de top teamz which qualify for de super 8......it has a very gud line up.....yeah...dey also hav de chance 2 win de cup.....dey r a gud dise....n asif will be de crucial one.....n yousuf is in tremendos form....so dey hav a chance

• India
28 Feb 07
Thanks for your comment......They are really a good team a whole and they really played well in South Africa, But they have lost Razzaq its said news and Azhar is joining them, But they have good lineup which will boost their chances.Pakistan will play a better team as they are ranked 4th in the world.