Do you prefer watching men's tennis or women's tennis?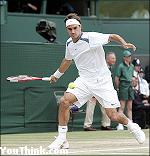 India
February 23, 2007 12:41am CST
Do you like watching or playing tennis?
4 responses

• Ireland
23 Feb 07
I like to watch both but I do prefer mens's tennis. there's far greater depth in the men's game which means the earlier rounds of men's tournaments are usually alot more interesting and closely fought. The women's early rounds are usually a walkover for the top female players and generally speaking, the tournaments dont get interesting until the quarterfinal/semifinal stages.


• India
23 Feb 07
I like men's tennis than women. I feel that men have impregnable play overall the tournament. Women pace their efforts well but men are lively. I mean the play. And ofcourse if women from our country play I never miss it. :)

• United States
23 Feb 07
Watching. I don't have the physical strength to play tennis.