If you were a deal or no deal contestant ...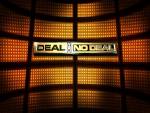 Philippines
February 23, 2007 6:34pm CST
If you are a contestant of the gameshow deal or no deal, and what is left on the board is 500,000 and 4,000,000. the banker's offer is 2,000,000. would you settle for a deal and get the 2,000,000 or would you risk and try to get the top money of 4,000,000. What's your choice?
4 responses

• Philippines
14 May 07
Let me see... Technically I am entitled to 2,000,000.00 therefore I'm risking to lose 1.5 million if I get 500,000.00 and I'm gaining 2,000,000.00 if I hit the 4,000,000.00 jackpot. I'll go for it. There's a lot to gain risking. 500,000.00 is not bad..., at least there'll be no what ifs after all is done. Cheers! Happy Posting :)

• Philippines
16 May 07
yup. your profile fit in as a contestant to that game show :)


• Philippines
17 May 07
when this happens to me, i will surely go for the offered amount of two million pesos. i can regret the decision later if my briefcase contained 4 million pesos and appear exasperated. but, i am sure that i won't risk it.

• Canada
17 May 07
I just watched it once and not really sure how it worked. I probably would just go with $ 2 millions. If I risk it and what is left is $ 4 millions, would the be offer go higher or is it uncertain? I think I have to watch it more

• Philippines
17 May 07
I would choose the 2,000,000 because it is a sure hit. im not really good at taking risks so ill settle with the one that ill know is sure. and 2,000,000 is 2,000,000. my life will be better with that money and its a great decline if i accept the "no deal" option and got the 500,000.