Where can I find Peace of Mind?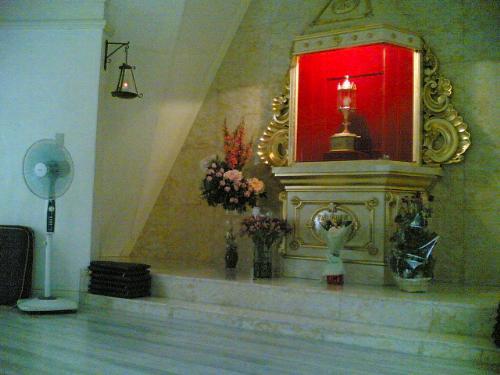 Philippines
February 24, 2007 12:22pm CST
I would like to share in.. There are times we need to unwind but busy to go to a quiet place, away from busy streets, away from tall buildings, away from buzz of life...when i got the feeling of lost, being tired.. looking for peace of mind..or just looking for an answer.. I find a place called the ADORATION CHAPEL... you may find this place in your place too.. maybe beside your church or chapels.. at first, I got hesitate to come in...i feel those people who come in are just sacred and blessed people... but when i try to go in, sit down and pray...you can feel the invitation of God, Jesus and the Holy Spirit.. I used to go to our adoration chapel at Marcelo Green Village.. i got lucky because whenever i go there there is no one inside.. i feel i am alone with the Holy Spirit.. talking to jesus and asking for peace of mind..asking to help for a decision..then after, as i leave the adoration chapel..i felt i am blessed..it is like someone tapping your shoulder, telling me.."dont worry, im here.."Such a nice feeling...try visiting your adoration chapel..you dont need to go far to find peace of mind..it might be somewhere just near you... God Bless!
4 responses

• Pakistan
26 Feb 07
I think peace of mind you have in your body, but it is up to you how you will find it, after your job always to busy your self with books so books will learn you peace of mind, you also can get peace of your mind to pray as per your religin in which you believe, you will get peace of mind when you will find a nice person as your husband, you also will find peace of your mind when you will find a nice and honest person as your friend, that you can share all your problem with him

• Singapore
26 Feb 07
I guess peace of mind is a "state of mind". Regardless which place you are in, you can find it.. For me, it's not not having too many things to worry but knowing that there is one God who will help you and guide you in anything especially on things which trouble you.

• Philippines
26 Feb 07
having a peace of mind i guess is where i could find inner sanctum or a place which is quiet where my mind could move freely or any calming place like a secluded beach overnight stay there will refresh my spritual and physical energy

• Philippines
25 Feb 07
you cannot find peace of mind by just going to chapel,because the bible and qur an said that God never dwells in chapel or synagougues.you can find it through self exploration.The peace is nowhere to be found but in your mind.If i were you,you could try some literature like Qur'an and Bhagavad gita.these literatures like bible,gives non literal explanation on one's person peace of mind.there's no other place in this world more quiet but your mind.Also meet other people to share your experience about your self.don't be such a prison to yourself.If you want peace and tranquility,you could also try mountain climbing for you to contemplate.there,you will realize the true value and essence of life through staring at the skies which was made by hands of God.Very effective.try it.