What's your favorite hobby, and how did you first get started with it?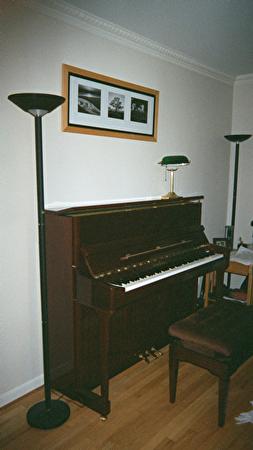 United States
February 24, 2007 1:27pm CST
I think my favorite is probably music. I started in elementary school playing clarinet (but I wanted to play trumpet) and after a few years, I begged my parents for a piano. I've been playing piano since the 5th grade, and I still love it. I just love playing music. I now also play guitar and violin, but piano is always my favorite.
8 responses

• Defiance, Ohio
24 Feb 07
I have two favorite hobbies. 1# is gardening. It really is a passuion of mine to plant and watch things grow. I learned gardeing from my grandmother who planted everything by hand. 2# is pixel tag making and drawing. I came across that in a coupe yahoo groups I was in. The rules of using the stuff was so confusing and vague. So I decided to learn myself and have been doing ever since.

• United States
28 May 07
My favorite hobby is karaoke. I got started one evening when a friend and I went into a bar to talk to someone. There were some people in the bar singing karaoke and they were really good, so I watched and listened for a long time. Eventually they talked me into getting up onstage with a group of them. One by one they backed off of the microphones until I was left singing alone. Now I love it.

• United States
5 Jul 08
That's a funny trick your friends played, but it looks like it worked out for the best for you! I am a decent singer, but I am awful at karaoke.



• United States
24 Feb 07
Mine would be gardening. I did it some as a kid, took Horticulture in High School vocational. Also landscaping and greenhouse and wedding piece work. I now have property and wish to make the hobby into a job. Market gardening. To sell as flea markets and farmers markets. Also subscription some day to local people on a route. Nice to know you are wired for sound! Interesting about you! The same kind of mind cells are also good for doctoring.

•
24 Feb 07
My favourite hobby now is writing poetry. I first started writing to show my first girl friend how I felt as it was easier for me to show from writing instead of talking. I now try to write more seriously and hardly any are now about love. =) It used to be football and I started playing this because of my older brother. who tried to get me to play with him when we was only babies. Kudos ~Joey

•
24 Feb 07
oh my all time favorite hobby is eating....!! lol but yeh ...thats what i do always....make sandwiches....or cakes...!! and thats what i do best!! i simply have to munch at something...if on on the computer...or reading a book...or watching a movie!! its actually irritating....but i cant help it!! i m not obscene or anything....no way...infact i have a slim built (guess its just that i have a great metabolism or something!!) and the fat that i accumulate...i burn it dancing!! still...do u knw of anything...that i can munch on ..without putting on any weight??!! the spicy the better...lol

• United States
16 Jun 07
my fave hobby is drawing, i've always loved it, i've been told i'm a good artist