Flip flops all season?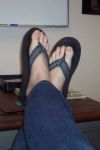 United States
7 responses

• United States
24 Feb 07
I dont think anyone in their right mind would wear flipflops outta the house in my town in winter. Its been more then 20 below zero (F) for the past week. Talk about frostbitten toes hehe! I think its sensless. Like the teenaged kids who leave the house wearing only a hooded sweatshirt and its below zero. Crazy.

•
24 Feb 07
My feet are always so cold in the winter! I love flip flops in the summer, yes, but when it's so cold!Brrr! My toes are feeling cold now, even! (I think I may have been a lizard/snake in a past life!) How can anyone possibly got out and about, in the cold without shoes?!

• Canada
24 Feb 07
No , I agree with you . People wonder why there children are sick everytime you turn around yet they don't take the time to make sure there children are dressed properly for the weather . I do comment when I see children going around like this as most of the people that allow there children to do this are the people who can well afford to buy there children proper shoes for the weather . They are more concerned about the fact that child look cool in school that they will let them get away with what is not healthy .

• United States
25 Feb 07
Exactly. I mean you can buy some cheapy shoes fomr just about anywhere. It's one thing if an adult but children? people just need to think!


• United States
6 Mar 07
This is a funny discussion. I have a new puppy and he seems to love to chew things up. He got a hold of my husband houseshoes and cewed them into shreds. LOL So now my husband is wearing his flip flops in the house for houseshoes. LOL I had to laugh at him.

• United States
6 Mar 07
I do wear flip flops too during winter...only when I go to a store to buy something really quick. Sometimes I just feel lazy to wear shoes so I would just use my flip flops.

• United States
6 Mar 07
Ok, I admit it. I am one of the ones you will see in a sweatshirt, jeans and flip flops. Why do we do it? Because we hate shoes! I only wear shoes if there is snow on the ground, any other time I wear my flip flops.