Flowers? A perfect present ?

Romania
6 responses

• United States
25 Feb 07
Many people like flowers but I am one who does not and admits it. They are beautiful but die unless they are in a planting pot and even die then if you don't know how to care for them. I love flowers, but outside in the soil they need, in the sunlight they crave bending in the wind.

• Canada
25 Feb 07
I am female as well but my preference is no flowers I have a black thumb LOL My family all know to buy me fishing gear Pleases me to no end and love it Sorry no posies for me LOL


• Netherlands
25 Feb 07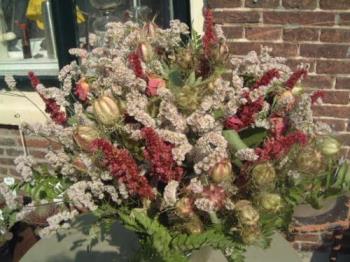 I like when people give me flowers (and gifts, of course). But, it is even nicer if they give a flower plants instead just cut flowers. It will last longer and I can still plant it in my garden. Or cut flowers but given in a decorative way, not just in a paper/plastic wrap.

• India
25 Feb 07
flowers are indeed beautiful, but i prefer to give some other gifts because i dont like spending a huge amount of my money on flowers, generally i prefer to gift wich will be of some use to them and flowers soon withers away

• India
25 Feb 07
Yes ur right.. But girls only love the flowers morethan boys.. So if we present flowers to girls like me they wil feel very special and happy :)

• Singapore
25 Feb 07
Especially girls, I think they love flowers. :P