what do you think is the best place on earth for shopping?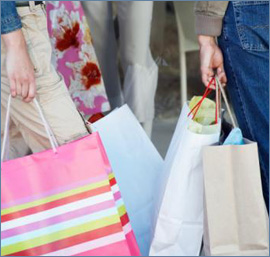 United Arab Emirates
February 25, 2007 2:21pm CST
I feel its 'FRANCE OR DUBAI' because of the malls and different varities and specially in Dubai the malls represent different cultures and food variety too..what according to you is the best place?
5 responses


• United Arab Emirates
28 Feb 07
No doubt about that i agree with u .. thanx for respondin

• Pakistan
27 Feb 07
if it is only for the shopping then it is definitely dubai ... so many cultures ... food ... ppl ... and what not ... anything that u can imagine related to shopping is in dubai ... its so happening over there and if you think i m wrong id say visit dubai first and go only for the shopping ... then ull find out what its all about ... PEACE !!!

• United Arab Emirates
27 Feb 07
oh sure i agree with you beacause i live in DUBAI... and there is lot of cultures and variety here the malls are amazing here...

• United States
26 Feb 07
If we are going abroad to shop, then I'm going to Sydney, Australia. I couldn't believe the amount of places to shop. If we are talking about the United States, then here is a shocker! Texas! For a state with miles of empty land, they have a lot of malls and several are really high fashion.

•
25 Feb 07
London because they have so many nice shopping place that is close to the west end where they have all these theatre and restaurant So you can can really indulge yourself all day , then paris but it's only because most of the time they don't want to speak english therefore not really helpful....xxxx

• United States
25 Feb 07
i think that france has the best shoping