What is your favorite fruit salad?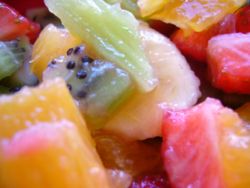 United States
February 25, 2007 9:10pm CST
Mine can be eaten all year long: Mango Berry Fruit Salad Ingredients: 2 mangos - peeled, seeded, and diced 1 cup reduced fat raspberry vinaigrette salad dressing 8 cups mixed torn salad greens 1/4 cup chopped cilantro 1/4 cup sliced red onion 1/2 cup fresh raspberries 1/2 cup fresh blackberries 1/2 cup fresh strawberries, halved 1/2 cup fresh blueberries 1/2 cup toasted hazelnuts 4 ounces freshly grated Parmesan cheese Place 1 mango and the raspberry vinagrette dressing in a blender, and blend until liquefied. In a bowl, toss the remaining mango, salad greens, cilantro, and onion. Drizzle with the dressing mixture. Top each serving with equal amounts of raspberries, blackberries, strawberries, blueberries, and hazelnuts. Sprinkle with Parmesan cheese.
No responses