Are you good at arts or crafts? Or are you at least trying?

February 25, 2007 9:45pm CST
A painting, a necklace, a chair or even a jewelry box... Do you think you're good at anything to do with arts and crafts? I must admit I'm trying but I just don't seem to like my stuff too much. I am in the process of trying jewelry as my friend makes it and told me to try, but I'm not sure I like my creations. What about you?
8 responses

• Australia
26 Feb 07
I've been told by a lot of people I'm very good with making jewelry and charms. They do seem to sell, so I must be doing OK! An example of what I'm into right now is my avatar. This is one of my favourite pieces so far! (Of course, I do suck at drawing, so I think I will have to stick with 3D!) It is always worth a try! You'll soon find something you're not only keen about, but also good at! Then you just need to develop that talent!

• Australia
26 Feb 07
Thanks! I don't know how I'd go with the "how to" books. I'm only just beginning, really! I'm far from being at a leve where I can advise others on how to do the same, as I sometimes have difficutly figuring out exactly how I manage to do it myself! lol. I shall have to work on it, and consider your suggestion!

• United States
27 Feb 07
Arts and crafts are not my cup of tea. Whether its because I have clumsy fingers or my creativity does not lean towards that direction, I seem to have no talent creating objects using my hands. I do admire individuals who can produce wonderful masterpieces out of everyday materials. The only exercise that I can produce a decent result is crossstitching. Its a hobby I picked up when I was younger, but later gave up due to my deteriorating eyesight. I guess, when it comes to the world of arts and crafts, I will just remain an admirer instead of a practitioner, and that is all right with me.

• United States
26 Feb 07

• Pakistan
1 Apr 07
yes im good with arts and crafts i think we should try and try for whatever we are doing nothing is difficult many people love to make crafts but they dont try it becuz they dont believe in theirsleves i make so many crafts when im free i make wall panels and glass painting on glasses and dishes and decorate things and most fun i do when i work on things that are useless and make them easy to use by decorating them again if only we have good ideas in mind we can make so many home made easy crafts


• United States
8 Mar 07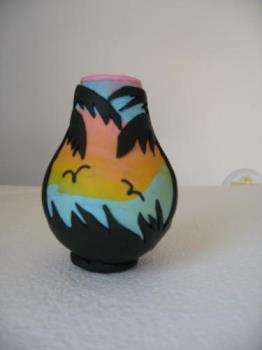 I love doing arts and crafts and have taught myself to do many different types. Some of my favorites is polymer clay, sewing, quilting, cross stitch, knitting with knitting looms, calligraphy, painting and so many more. The thing is to not to be afraid to experment. Some crafts I have tried I don't like but others I love. Give yourself time to learn how to do a craft properly. Some of my firt time projects I didn't like how they looked either but with practice they became much better.

•
26 Feb 07
I would say i have a talent for arts & crafts. I was always good at art at school and went on to do both art and photography A Levels, though i never thought i'd be able to make a career of it. I make my own jewellery, which i've been fairly successful at (i've sold a fair bit), and i make my own cards that i give to family and friens (i don't sell those). There are some examples in the card and jewellery making sections of my work, as i put some photos up (the ones i put up say they are amde by me!).

•
26 Feb 07
I believe so. I'm not going to be arrogant and say I am. although when I've made things those I give them to say I have a talent. I've made jewellery boxes as well, I've sold a fair few too when I used to do wood work. I love designing things like them too. Kudos, ~Joey