Delicious sourdough bread!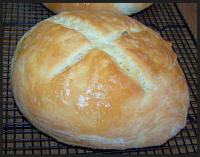 United States
February 25, 2007 10:40pm CST
Want something that will temptingly smell your house for days? The Sourdough Starter Making the initial starter is a three-day process, so plan ahead if you want to make sourdough for the first time. Ingredients: 1-1/2 cups lukewarm milk 1/4 teaspoon active dry yeast 1 teaspoon honey 2 cups unbleached white flour 1/4 cup spring water 1. To prepare the starter, place the milk in a mixing bowl. 2. Sprinkle the yeast over the milk. 3. Whisk in the honey and 1-1/2 cups of the flour. 4. Cover with plastic wrap and let sit at room temperature (72 to 76 degrees F.) for 72 hours (3 days). 5. After 72 hours, stir in the 1/4 cup water and whisk in the remaining 1/2 cup flour. 6. Cover again with plastic wrap and let sit at room temperature for 2 hours; the mixture should be bubbly and have a sour, tangy aroma and taste. 7. Remove the amount of starter the recipe calls for and set aside. 8. Transfer the remaining starter to a sterile' glass jar and replenish it by mixing in 1/2 cup water and 1/2 cup flour. Cover tightly and store in the refrigerator for up to 1 month. North American Sourdough Bread Ingredients: 1 cup sourdough starter 6 cups all-purpose flour 1 (1/4 ounce) package active dry yeast 1 1/2 cups water 3 tablespoons sugar 3 tablespoons butter 1 teaspoon salt cornmeal (optional) Bring sourdough starter to room temperature. In a large mixing bowl combine 2-1/2 cups of the flour and the yeast; set aside. In a saucepan heat and stir water, sugar, butter, and salt just until warm (120-130 deg.) and butter almost melts. Add to flour mixture. Add sourdough starter. Beat with until mixed and smooth, scraping bowl. Stir in as much of the remaining flour as you can. On a lightly floured surface knead in enough of the remaining flour to make a moderately stiff dough that is smooth and elastic. Shape into a ball. Place dough in a lightly greased bowl, turning once to grease surface. Cover and let rise until doubled. Punch dough down. Turn out on a lightly floured surface. Divide in half. Cover and let rise for 10 minutes. Lightly grease a large baking sheet and sprinkle with cornmeal (optional). Shape each half of the dough into a ball, place on baking sheet, flatten to about a 6-inch circle. With a sharp knife make crisscross slashes, 1/4 inch deep, on the top of the loaves. Cover and let rise 30 minutes. Preheat oven to 375-deg. After oven is heated, place bread in oven. Bake in oven for 30-35 minutes, or till bread tests done. Cool on a wire rack.
4 responses

• United States
26 Feb 07
I love cooking with sour dough starter. I do not use commercial yeast in my sourdough starter. I let my dough pull the wild yeast out of the air. It has such a wonderful taste that way. I keep a starter going at all times and have for years now. I love sourdough chocolate cake and sourdough carrot cake. They are just wonderful

• Canada
4 Mar 07
How do you make your sourdough starter without commercial yeast? Is there a technique to pull the wild yeast out of the air? I've been wanting to try to make sourdough bread. I'd also like to try make it with whole wheat? Would this work? How do you make sourdough chocolate cake? It sounds yummy!

• United States
19 Mar 07
You can get the whole starter and how to care for it at http://www.io.com/~sjohn/sour.htm He tells you how to get started with just flour and water and what flours to use. and a lot of good advise go here for chocolate cake recipe http://www.recipegoldmine.com/sourdough/sourdough40.html

• United States
26 Feb 07
Oh Bee, I have wanted a receipe like this so much. Can I do it in the bread machine? Or must I do it by hand? Thank you so much for posting this.


• United States
26 Feb 07

Thanks for the recipes. I have been wanting to make some homemade sour dough bread. Thank you once again for these recipes.