In Search of Korean Chicken Recipe

United States
February 26, 2007 1:45am CST
Does anyone have a really good Korean Chicken Recipe? One that you've actually cooked and eaten yourself?
3 responses

• India
26 Feb 07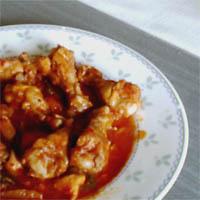 12 chicken wings, cut in 2, tips discarded or boneless chicken 1 large onion, sliced 1 green bell pepper, sliced 1 cup carrots, cut in 1 inch diagonal slices or baby carrots, cut in half lengthwise 5-6 tablespoons soy sauce 1 pinch black pepper 1 teaspoon sugar 1/4 cup water 4 tablespoons red pepper paste, (kochujang) 1 teaspoon crushed dry red pepper, (Korean kochugaru) (not the kind you put on pizza, found in oriental grocery stores) Boil wings in pot until blood no longer visible. Drain. Mix ingredients together and bring to boil. Cover and let simmer over Med heat for 15 minutes, stirring occasionally. Cook until carrots reach desired tenderness. Serve with sticky white rice.

• United States
3 Mar 07
Oooooh. This sounds like it has a bit of bang to it. Hmmm. Yummy. I'm going to print this out. Thank you soooo much.

• Pakistan
26 Feb 07
Korean Chicken Teriyaki-Style Chicken 1 cup Shoyu (soy sauce) 1 cup water 1 cup sugar (to taste) 1/2 bunch green onions (chopped) 5 cloves garlic (crushed) 2 Tbls. ginger fresh grated Hot Pepper flakes to taste 1 Tbls. Sesame Seed Oil Chicken Thighs (deboned) Mix ingredients in sauce pan, heat to near boiling to melt the sugar. Marinate chicken for 24 hours or more. Grill or broil chicken until done. Do not reuse the Marinade due to the Chicken. Preparation Time: 24hrs

• United States
3 Mar 07
ooo teriyaki style. Are you from Hawaii? :) I'm gonna have to print these out.