What's your weather like today?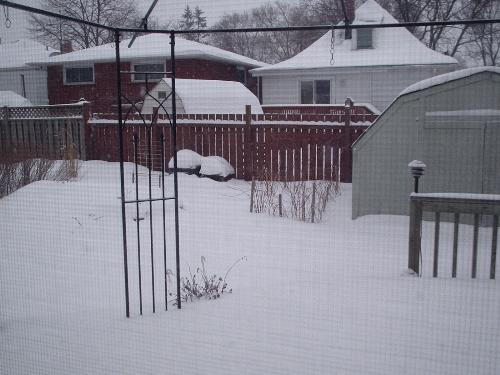 Canada
February 26, 2007 7:51am CST
Here in Southern Ontario (Canada) we're getting another storm to add to the whacking we took last week. Although I love to look at snow it certainly isn't nice when you have traveling to do. I also don't participate in any snow related sports I prefer to go for walks and this isn't making it any easier. Tell us what the weather's like in your neck of the woods today. Be sure to add how it effects your lifestyle. I've included a pic below that is my backyard this morning... kinda dark but that's what it's like today.
6 responses

• Ireland
26 Feb 07
I am from Dublin, Ireland. At the moment, its nice out. Blue sky with a few clouds. 9degrees at the mo. Yesterday it was raining. WE didnt get snow this year. I prefer when its nice and warm out but would like a bit over snow over the xmas, maybe next year we'll get it. :)

• Nigeria
26 Feb 07
It's becoming hotter and hotter in Nigeria. And in harmattan it's becoming colder and colder! And the monsoons are getting too unpredictable to comment on.

• United States
26 Feb 07
i live in north carolina and its kinda chilly but is suppose to get up to 58. love the view of your yard my kids would have a field day lol

• United States
26 Feb 07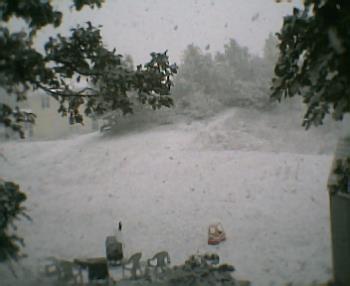 Hi, Im in West Michigan. Its pretty snowy here today. they even closed school.. it took a while for snow to kick in this year, at first we didnt have any.. even a green christmas which I didnt mind at all! lol but now its making up for lost time I guess... school has been closed quite a bit recently. It really makes things hard because we are moving so its slowing us down a bit.. the drive where we are moving is about 45 minutes away and I really dont like driving in the winter time so thats not fun for me at all.. but my boys are loving the snow. they've been sledding and just having a great time out there.. personally I cant wait for summer! but Im also not looking forward to those hot sticky summer days either..lol

• Canada
26 Feb 07
You're weather has been very similar to ours this year. I too enjoyed the lack of snow but it does seem to be making up for lost time! Moving would be difficult in this weather. Yep, watch the kids in the snow... I remember being that excited about it too! The heat we get in the summer is just too much... is there anywhere where we can have nice weather most of the year? Spring and Fall are not what they use to be!

• United States
26 Feb 07
Right now it is 15 degrees. And supposed to be sunny, cold and clear all day in Maine, but that could change in about 5 minutes or so, that is the saying here in Maine don't like the weather, wait a minute it will change. I do feel for the ones in New York and New Jersey and other lying areas of the United States and Canada getting pummeled with snow, this year Maine has missed all this snow somehow. Usually no one is getting it BUT Maine! lol But this year we have not gotten much of anything though later this week, looks like we may get some, but nothing promising and will probably change as the week goes on, but i don't go out in it when it is snowing i don't like it and being a Californian after 9 years here in Maine still don't like snow. Hopefully we can move to a little snow or snow state soon.

• United States
26 Feb 07
today are snowing and very cold outside so im staying at home.Have a NICE day everyone.