Akita dogs

United States
10 responses

• United States
26 Feb 07
Our friends have an Akita. He is such a baby. He doesn't know his own strength. He nearly knocks me over when he nudges me. He is very loving and enjoys playing around. His owner will get on all fours and play with him. The dog obeys when spoken to in a firm voice using Dutch words.

• United States
26 Feb 07
Thanks for telling me this. Hummm, Dutch words. Never really thought about that, but makes sense as everyone doesn't speak English. :)

• United States
26 Feb 07
Our friends said that the Dutch words are more harsh in sound and the dog complies better.

• United States
26 Feb 07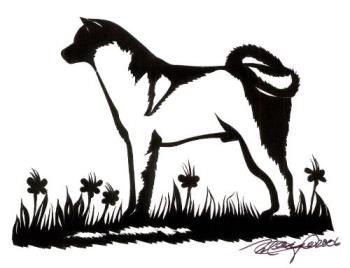 One of my cuttings freehand with no patterns.


• United States
26 Feb 07
Yes they are all the above but too big for me. And they need to be in the cold areas of the country. They have a very thick undercoat. And if you dont brush them out correctly it will be all over your house.YUK

• United States
26 Feb 07
I din't know about their coats. You like little dogs better?

• Brazil
14 Mar 07
The dogs this breed are lovers and more gentle, they love yours lords and are more alives, like more of the stay on the under from the we legs. Are more lovers and more gentle in general!

• United States
26 Feb 07
Like any dog they must be treated as the pack animal that they are. You become their alpha female. Large, powerful, alert, with much substance and heavy bone they seem ready to pull a sled. Since there is a rescue for them, there must be some trait that regular people cannot handle. Of course any dog can be an exception or raised differently and become a wonderful dog. Our three are all different breeds and we treat them the same yet according to their breed. I would welcome an Akita into our lives, however, we are animal people and the dog no matter would have a place with us.

• United States
30 May 08
We have a four month old akita and she is sweet as she can be. She is very loving and extremely intelligent. At four months old she plays fetch, she knows her toys and she will fetch anything. At four months old she weighs 40 pounds and has huge paws, so she is going to be a huge dog. She is the best natured dog I have ever had. We love her loads already.

• United States
30 May 08
I agree with an earlier poster that says they are very cat like. From what we have read Akitas are the most catlike of all dog breeds. However we also have a miniature wiener dog and if he wasn't such a grouch they would get along fine cause she loves him but he is 6 years old and set in his ways and won't make friends with her.

• Philippines
20 Mar 10
I love big dogs.akita is a big dog.I love big dogs because I feel safe and warm around them.my worry is,akitas are territorial and prefers a home with few or no other animals.I would like to have a LOT of big dogs in my house.I am afraid that the akita might get aggressive and fight off with the other animals.

•
1 Jun 08
They are large dogs bred for guarding and they retain a huge amount of this instinct something people need to be aware of, Not overly demonstrative in the affection department they love their owners and will probably be less affectionate towards those they dont know. I cared for one at a kennels once who was very difficult he knew his strength and used it, but I have known lovely Akitas too, they need firm and fair training from the start and lots of consistent socialisation, those who dont end up in rescue and need lots of work before rehoming.

• United States
1 Jun 08
We had an Akita when I was a teenager. We lived in Southern Ca, in Anaheim. Our back yard was closed in by a 6' tall cinder block wall. The wall warm so the abundant lizards would bask on it during the day. It drove that dog nuts. He would do nothing but hunt and kill lizards every time we let him outside. He was gentle and loving with us at all times. He hated every other living thing. Even birds flying overhead would drive him into a frenzy. That guy Cesar, from the Dog Whisperer show, would have had his hands full with this dog. Before this dog we owned a Newfoundland and a German Shepard. Both are large breeds and we never had a problem with either. Since the Akita I prefer small breeds. My avatar is of Chopper, a Brussels Griffin and current king of the roost.

• Philippines
27 May 07
I have a 2.4 yr old male akita named Wolf. I was so happy that I decided to have him as a pet coz it was the best decision I ever made. He is a great watch dog, extremely loyal, very obedient (of course I trained him early) and very very sweet and lovable. I have posted his picture on my site. Have look at it.

• United States
1 Apr 07
Yes, they can be very sweet, loving and gentle. But you have to remember that Akitas are very catlike and love to prey on small animals. Just like a cat chasing a mouse and killing it, Akitas may go after animals such as rats, cats, rabbits, etc. They have a high prey instinct which may be why some people don't like this breed. If you are interested in this breed, the best thing you can do is read about it and see if it is the right breed for you.