fall

Bangladesh
4 responses

• Bangladesh
27 Feb 07

If u really want to leave her then call her to your home when ur home is free. When she will be in ur home then rape her. Easily she will leave you.

• United States
26 Feb 07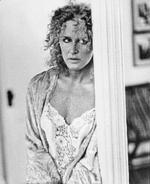 You need to be honest with her and let her know that you are not interested in her except maybe for a friendship relationship. If she can't deal with that, then she is obsessed with you and maybe you will need to get a restraining order so that nothing bad happens to you by her. Did you ever watch Fatal Attraction? Good Luck!

• United States
26 Feb 07
Be clear, soft, yet firm to her about your lack of interest while shining more light on the other possibilities for her to date out there. Relationships should be a two-way street, not one-way. Both sides need to give 100 percent, have an unbalanced relationship. It's not fair to you or her if she's being led on to believe something is happening between the two fo you.

• Canada
26 Feb 07
I would suggest you make it quite clear that you are not intersted in her in that way and that she is wasting her time . Tell her that she is a nice person and all but you just don't feel anything for her and that she should find someone who will love her for her . Best of luck !!