flowers, chocolates, stuffed toys---which presents do you usually give/ receive?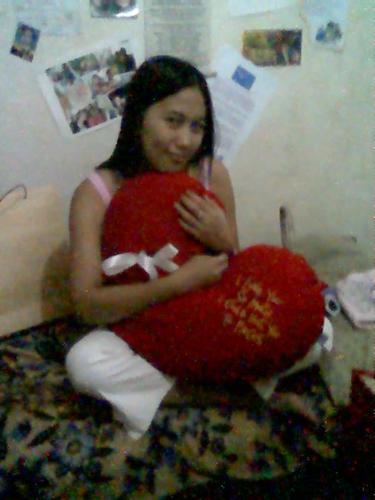 Philippines
February 26, 2007 3:10pm CST
OK. these are the most common gift ideas we all have for our special someone. I personally would love to give flowers to my girlfriend once in a while, the smell of those are just really beautiful. However, the last present I gave to my girlfriend was a stuffed toy, a heart-shaped pillow , and it just feels great that she likes it so much. And I'm just so happy when I visited her in her house once, she was still sleeping when I got there and when I opened the door to her room, I just felt great when I saw her hugging the stuffed toy I gave her. It was as if like it's me she was hugging with. I guess I would give her some more stuffed toys now... lol
6 responses

• United States
26 Feb 07
Some people may think I'm strange but I don't really like any of those things. I don't like flowers b/c they don't last, I don't like chocolates b/c I'm not a sweets kinda person and I don't like stuft animals b/c they take up room. I would much rather just spend time with my husband or for him to just say I love you. that is all I need. We have a wonderful relationship and I don't need those things to feel loved I guess. I know I am loved. I am very BLESSED!

• Philippines
26 Feb 07
Cool! I appreciate your thoughts..thanks for replying...

• United States
2 Mar 07
After fifteen years or marriage, my husband has just about everything. It's getting really hard to buy for him and his birthday is coming up in a few weeks. For Valentine's Day, I went to godiva.com and got him some sugar free chocolates bcs he's a diabetic. He like that a lot. But I can't do that again for his birthday and I'm stumped. He got me a large card for V Day. On the front are butterflies, which I love. Cartoon butterflies. There's a button in the corner and when you press the button, lights start flashing all over the wings for about ten seconds. It's on my nightstand. I press that button all the time. It's so pretty. Gifts don't have to be expensive. Just thoughtful.


• Philippines
27 Feb 07
I do appreciate any present I get to receive from my boyfriend, be it flowers, stuffed toys, or chocolates...but if I gotta choose only one, I'd go for stuffed toys..I just love the feeling that when I hug the stuffed toys I received from him it's just like it's him am hugging with... lol

• Philippines
27 Feb 07
My husband knows I am not fond of chocolates, so everytime he comes home from abroad, he doesn't bring me chocolates. He instead buys me a stuffed toy if he can . I love stuff toys and he knows it.

• United States
26 Feb 07
THAT IS SOOOO SWEET!!! My boyfriend does things like that for me too. He usually buys me cute little stuffed animals just because or on Valentines day he gives me big teddy bears. But last year on my birthday he went to KAY jewelry and bought me a RING!!! I love him!!!!!