all you can eat buffets....

United States
February 26, 2007 4:42pm CST
don't you think if you go to an all u can eat buffet and have something left you should be able to take it with you? Now i don't mean eat all you can and get another plate....i mean if you just got too much, is'nt it better to be able to take it home instead of wasting that food? All they will do with it is throw it away.
4 responses

•
26 Feb 07
here in the UK doggybags are uncommon in most restraunts, however i think at an all you can eat place they would be fine with you taking what you didnt finish to have later. In one way it is a compliment to the cooking that you would want more of their food. the only difficulty might arise with people taking extra to what they had to begin with and exploiting the resteraunts policy of all you can eat

• United States
26 Feb 07
Alright. The reason you can't take your all you can eat buffet to go is that people are dishonest and would abuse the privelidge. I have worked for a restaurant that had a buffet and people would load two or three plates full of stuff, eat a little and then ask for a to-go box. They would have like 15 pieces of chicken on their plate. Who really goes into a buffet and gets 15 pieces of chicken and then asks for a box. Do you think that I am stupid enough to believe that they intended on eating that but just got too full? Some people are really honest when wanting to take their leftovers home. Most people would abuse the privelidge.

• United States
26 Feb 07
well i think its good do you?????

• Australia
26 Feb 07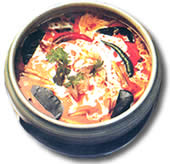 I used to always say you should be able to pay just a tiny extra and take a container of food home but I am not sure anyone here in Australia can even ask for a doggie bag any more, which used to be very common with what you didn't eat, the last I heard a lot of restaurants wont do it any more simple because of the health risk of transporting food.