What do you collect?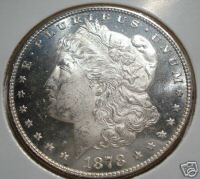 United States
February 26, 2007 8:49pm CST
I am wondering what kind of things people collect? What is it that you collect? Do you have a favorite peace? Can you share a picture of it? I collect books, coins and other old money, I love to read, I always seem to keep the books I buy. I love collecting coins, my favorite is the 1878S Morgan Silver dollar.
8 responses

• Hong Kong
27 Feb 07
I collect Swatch watches. I currently have 28 and still growing... I also love to read, but I have abandoned collecting them as it take too much of my living space. Now I only keep the books for around 3 months after I finished reading it, then either give it away to friends or donate it.

• United States
27 Feb 07
I'm thinking about putting them whole lot on ebay as collections. I have everything Dean Koontz, James Patterson, V.C. Andrews, Mary Higgins Clark and a hand full of other author's entire collections. I figure as a complete set I should be able to get half of what I paid back out of them, and someone gets them at a great price.

• Ireland
16 Mar 07
I used to collect Breyer Horses. I still collect shells, pebbles and books now, mostly. And stray dogs, too or rather they seem to collect me.

• United States
16 Mar 07
I collect Mary Engelbreit stuff.. I have pictures and books and magazines, sayings, flower pots, magnets, etc. I love her art work and sayings!

• United States
27 Feb 07
I seem to collect books too! Tend to buy movies according to what I already have. I guess that is collecting. I like to buy Hello Kitty things, have done so off of Ebay. Incense, like flower smells and blessing kind and spicy ones. Pez Dispensers. Have enough that I can bring out holiday ones. lol Probably consider it collecting to get recipes and create my own binders of the collections of recipes that I get from newspapers and cook books I don't keep and online. I guess that is about it.

• United States
29 Mar 07
I collect stamps and coins. I also seem to collect tools. I furnish with antiques I guess this qualifies as a collection.



• United States
10 Mar 07
I collect money. Old money, new money, old coins, new coins and foreign currencies as well. I also like to collect gold, silver, jewels, platinum, bronze and even copper. I guess you could say I like to collect anything that has value to it.