Anybody loves Vanessa Mae?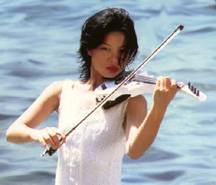 Indonesia
3 responses

•
29 Mar 07
I think that I have got most of her CD albums and I just got the DVD of her "Red Hot" concert at the Albert Hall in London. Really good.

• Indonesia
31 Mar 07
Wow, you have the Concert DVD. That's great. I've seen the concert twice when it was aired in a local TV. She's a great musician who can bring the classic to the modern world in a modern beat..

• Singapore
18 Feb 08
Vanessa-Mae is my favorite violinist. I love her music genre, modern classical with more improvisations that riches the original pieces. I really love her performances, she just that "great" and beautiful! I love violin, because i like to listen her music!

• Egypt
1 Apr 07
Yes I love Vanessa Mae, her music and style are great and she is cute too :)