Real set Robinho price - Should Wenger buy im in the summer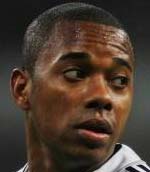 India
February 27, 2007 1:04pm CST
Robinho can leave Real Madrid if a club are willing to meet the €18million asking price in the summer, according to the Brazilian's agent. Arsenal have been linked with the Brazilian in the past.. Do you think Wenger should buy him in the summer???
6 responses

• Malaysia
28 Feb 07
eventually, robinho has rejected us and opt for real madrid. robinho is not a perfect replacement for henry but he does has some of henry's quality - pace, dribble, etc. should wenger buy him? i think yes. but i prefer a 'older' and more matured striker. eto'o fit's the bill but not many spanish league striker can't adapt into epl.

• India
28 Feb 07
i agree with you even i would prefer Arsenal buying a older and matured striker but as everyone knows Wenger prefers buying young players and grooming them... I would love to see Eto playing for Arsenal....

• Nigeria
6 Mar 07
Let Wenger leave Robinho alone. Even if he wanted to make a purchase, someone like Eto'o would be okay, though I doubt Eto'o will be that interested. If he considers moving to the Premiership, Chelsea is definitely ruled out, That leaves United, Arsenal and maybe Liverpool. Our team really needs some experienced players.

• Romania
2 Mar 07
i think robinho will play very good for arsenal if he will be bought.he has some good skills and he plays also for the fans,... he will be a good investment for the future

• India
1 Mar 07
I am pretty sure that Arsene Wenger would pass on Robinho. There are many reasons for that: 1) Wenger usually looks for young talent that is not too costly and seek to mould him in Arsenal's mould. 2) The current lot of youngsters are showing a lot of promise and up front he has already made a major investment in Theo Walcott, so I don't think he would consider Robinho currently. 3) Robinho for all his ball skills is still to prove himself and is also too frail for the hurly burly of EPL. Arsenal are already suffering from the fact that they are ruffled by tough tactics and would not want to add another player in the kitty who is frail. Cheers! Ram

• Malaysia
28 Feb 07
nope.. because arsenal hav enough player who can score a goal.. they should buy someone who is good in defence... !~

• Nigeria
27 Feb 07
No,wenger should not buy him.I think they have more than enough strikers in the team for now but the asking price is too much.Rather,if they know that they need strikers they should go for a better players like eto