My cat breathes loudly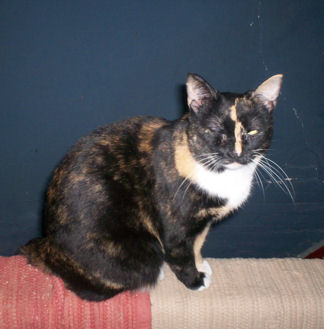 United States
February 27, 2007 3:20pm CST
Ok this may sound crazy but I'm that other people experience this and at the same time trying to avoid a vet bill if I have to. My oldest cat breathes pretty loudly sometimes.. Sometimes it sounds like a wheeze/sigh noise and at other times just heavy slow breathing. She is not over weight, shes really active, alert.. Doesnt seem like she has a cold/etc.. I'm wondering if this is normal?
2 responses

• United States
27 Feb 07
No it doesn't sound crazy because one of my cats does the same thing. Usually when she gets it, it is after she has a coughing fit and then she'll wheeze for awhile. It doesn't seem to affect her and I've never brought it up to the vet. If I feel it is affecting her, however, I will ask the vet what it is. I did some searching on the internet when my cat started doing this and found that a wheezing sound in a cat can be an allergy, sinus problems or even asthma. If you're worried though you should call your vet. When she runs or is active does she pant? This would be a sign of something not right because cats usually won't pant unless they are afraid.

• United States
27 Feb 07
Nothing abnormal when she plays or runs.. There is no sneezing/panting/coughing at all. Thats why I havent taken her to the vet yet. She seems perfectly normal except for the heavy breathing sounds. Thanks for the advice, it does help!

• United States
27 Feb 07
Our male cat does that sometimes and it is because he doesn't have a really thick lining in his sinuses and they get aggravated. It is almost like having allergies because lots of dust, pollen, etc cause it to act up. If it gets worse, I suggest taking your cat to the vet.