Hasek still has it?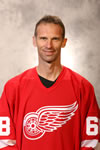 United States
February 27, 2007 4:54pm CST
I think many of us wondered if "The Dominator" still had it. I love the man and have thought he is one of the top goalies of all time but I have to admit, I wondered if he could still do it. I'm pretty amazed, he's top dog in goals against average at .207 this season for the wings. Anyone else surprised by his comback and standings?
2 responses

• United States
27 Feb 07
I'm not surprised at all. He's definitely one of the top goalies of all time, if not the best. He was fantastic for us in Buffalo, and he won the Stanley Cup for Detroit the year after he left Buffalo. I can't believe that he hasn't retired yet. This has to be getting tough for him. He just loves the game so much.

• United States
27 Feb 07
Well, I think he only came out of retirement after he had some legal issues back in his homeland. When I met him in person 10 years ago he was such a down to earth guy. Others commented that he was rude and ignorant but he truly was anything but to me and my son, also a goalie, when he stopped his SUV to sign my son's jersey after playing in Buffalo in between periods. It was great and he showed nothing but class. He is truly one of a kind and I do think one of the top goalies ever too.

• United States
28 Feb 07
I too think he is an awesome goaltender and person and is a good sportsman. That is amazing that he is still doing very well. I have not been following him or how often he plays but that is great. As long as he is playing great, he should keep playing til he decides to stop or injuries prevent him from playing. I think he will make a very good head coach eventually as well.

• United States
8 Mar 07
I think the media lacks in following him for some reason, not sure what it is, and that's why I too was really clueless as to where he was in the standings. I do think he's a great player. I'm not so sure what all happened in his home country but if it's any indication of his temper he might be good to just stick as a player and retire in the states! LOL I'm not sure on the bench is where he would be good... although he might do well as a goalie coach.