What do you think is the most destructive element?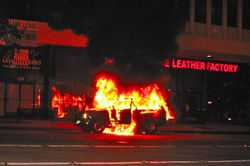 United States
February 27, 2007 5:44pm CST
When I say element I mean the classical elements aqua(water),terra(earth, air and fire. I say most destructive because water wields the power to sustain life as we know it is most powerful in my opinion,but I think fire is unsurpassed in its ability to destroy life there is know withstanding it. There are water creatures, earth creatures, air creatures too but no fire creatures. Thats because it is too destructive. Whats your opinion?
2 responses

• United States
12 Apr 07
I personally say water. Fire is destructive, but it can't survive without air or if it gets wet, so it has limitations. Water can errode stone, fire can't do much but cook it pretty well. We don't think of water as being destructive since it is a slower worker. It rusts metal, eats though the earth, regardless what materials it's fighting through and... it beats fire's butt!! (lol)

• United States
12 Apr 07
Ok, that was wierd... I didn't realize this was going to post twice. I had to fix a word, so I stopped it from posting, but I see that it went though anyway. So there you go!! 2 responses!!

• United States
12 Apr 07
I personally say water. Fire is destructive, but it can't survive without air or if it gets wet, so it has limitations. Water can errode sotne, fire can't do much but cook it pretty well. We don't think of water as being destructive since it is a slower worker. It rusts metal, eats though the earth, regardless what materials it's fighting through and... it beats fire's butt!! (lol)