What's the best way to hide the cables for my surround sound speakers?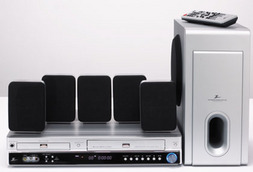 Romania
February 28, 2007 1:34am CST
I've got a simple surround sound setup in my living room with 2 rear speakers. Right now I have 2 lame cables strewn across my carpet in the middle of the room between the tv and the back of my couch. What's the best way to get these things out of the way? Is there a wireless solution? Should I just put the wires up along the corners of the room? Under the carpet? Any other ideas? Thanks!
3 responses

• United States
28 Feb 07
If you only have one level in you home, run the cables along side of a pieace of modlding. Or pull up a sid eof the carpet and stick it under it. If you have a basement or an attic, drill a small hole adn run the cables through the attis or basement.

• United States
28 Feb 07
Try this, run the wires a long the corners where the wall meets the ceiling. you could also paint the wires the same colr as the ceiling or wall. The when you run the cable from the corner to the speaker, paint that wire section the color of the wall. Hope this works for you...

• Romania
28 Feb 07
At my home i do this in tow way's oone: in a room i have celling and i just get the cabele under celling tilles or in the other room parquet and i just go the cable on the edge under parquet and is hide perfect if you don't have a parquet or false celling u can buy some cabel chanell is about 0.5$/m and just mount in the bottom of the wall ...but disavantage ...is only white color beause is PVC...but is better then the have cables all around you to sttumble!

• United States
28 Feb 07
Hi, just went through this problem recently. Do you have an attic? If you do you could run them up through that. Our surround system is set up for wireless as well, so we could purchase the componet that will make it fully wireless as well.Check with the manufactuer and see if they have a router or componet that will convert it to wireless. Good luck! Have an AWESOME ONE! Glo