jokes...all of u reply with the best of ur jokes..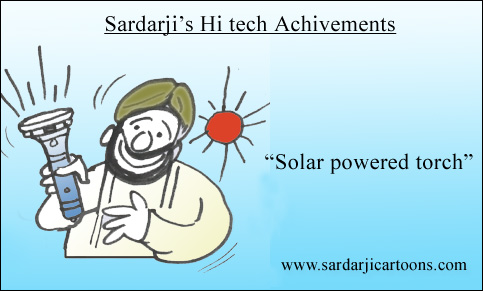 India
February 28, 2007 5:13am CST
i will upload each day a new pic which is a joke....
3 responses

• Indonesia
2 Mar 07
Natures Laws on Men Nature has many laws that hold fast and true. For example, a baby ape will always grow-up to be an ape; likewise, a baby baboon will become an adult baboon. A baby pig will mature into a full grown pig. A baby jackass will always become a jackass. A puppy quickly matures into a dog; a mongrel pup develops into a cur. Yet oddly enough, women say a young man may grow-up to be any one of these.

• Indonesia
28 Feb 07
once a blonde always a blonde A blonde dyed her hair to red one day, then she takes a walk down the road and comes upon a farm. She walks up to the fenced yard where the farmer is counting his sheeps. The farmer said hello and that if she guessed how many he had, then she can keep one. The blonde thought it was a great idea, so she starts counting in her head. She finally guessed 26, which was RIGHT!!! The farmer was amazed, but he kept his word. She climbed over the fence and back with the animal in her arms. The farmer takes one look at her and the animal and says, " If I guess what natural hair color you have, can i have my dog back?"

• India
28 Feb 07
iNTERVIEWER: hOW DOES AN ELECTRIC MOTOR RUN? sARDAR: DHUURRRRRRRRRRRR... INTERVIEWR SHOUTS: sTOP IT! SARDAR: DHURR DHUP. DUP. DUP. DUPPP.... Interviewer: Tell me the opposite of good. Sardar gee: bad Interviewer: come Sardar gee: go Interviewer: Ugly Sardar gee: Pichli Interviewer: Shut up Sardar gee: Keep talking Interviewer: Get out Sardar gee: Come in Interviewer: Oh God! sardar gee: Oh Devil! Interviewer: U r rejected. Sardar gee: I am selected.... Oye ballay ballay Once there was a competition held that one who can stay in a room with a pig for 20 days will be awarded Rs 15 lakhs. So 1st the pilot went to stay with him but after 2 days he came out saying I can't stay there. Then an astrologer went he stayed there for 5 days and then came out saying I cant stay there. Now Santa went in there and stayed there for 5, 6, 7, 8,9, 10, 11, 12, 13, 14 days.On the 15th day when the people out of the room were very excited to meet santa, the pig came out saying I cant stay there.