i have found a discussion posted 2008 years ago!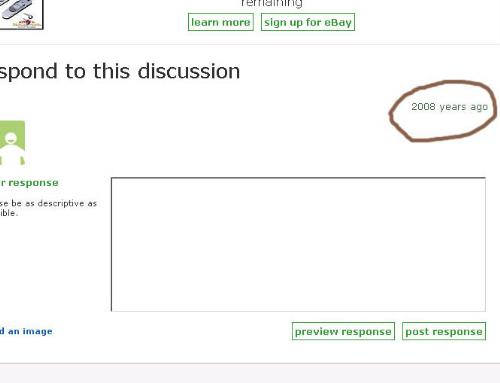 India
February 28, 2007 1:31pm CST
dont say whoooo.i dont know what happened .when i click on a discussion started by my friend from gmail,i got this page(checkout the picture)!it shows without any text!did you experience this!very funny. i think mylot deleted this discussion or just a bug?i dont know.but it very funny! discussion started 2008 years ago...ha ha!
7 responses

•
28 Feb 07
ive seen one like this that said it was posted thousands of years ago. I think they are all posted by someone who has made no responses and no other discussions. This suggests to me they are ghost posts or spammers waiting for responders to flood blessed be

• India
28 Feb 07
You have a very good eye. I don't remember seeing anything like that. May be I didn't look too hard. How could they get that error it is not 2008. At least I think it is not. May be on of the number of hitches mylot currently faces due to some so called technical problems. Thanks for sharing this with the rest of us. Regards

• India
28 Feb 07
hey friend, you know same discussion i had stared way back, when i encounterd same situation, saying 2008 years ago, i think it is bug in mylot, and looks they didnt fix this yet, well really as you said , its very funny..i laughed that time when i saw and you again made me laugh...Cheers!!!

•
1 Mar 07
i got that yesterday,when i went to responed to a friends topic and thats the page i got.so i press the back botton and i was back on my friends topic again,so i press responed again and it was ok maybe a little glich.

• India
28 Feb 07
oh you have a very good eye,it can be a bug in mylot which i think they can handle but its really funny,may be akbar was writing the discussion in mylot