Favourite Relationship on Friends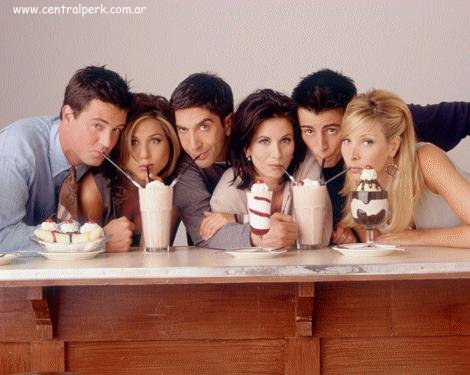 Portugal
February 28, 2007 3:26pm CST
What's your favourite relationship on Friends? I think it's really hard to say but I'll vote for Chandler and Monica, they're such a cute couple even if I love Ross&Rachel but Chandler and Monica are so different! It's unique xD You can talk about friends relationships too not only love=) I love Joey/Chandler relationship!
5 responses


• Portugal
7 Mar 07
They're such good friends =) It's great to see that! Thank you for commenting!

•
5 Mar 07
my favourite would have to be the rachael and ross one...especially the episode where she dresses up like princess lea

•
1 Mar 07
I'd also go for Monica and Chandler's relationship. I love the way it blossomed over the years from the first series, I remember a scene (several years before they got together) when Monica was wrapped in a towel and asking Chandler why she was single and he was hugging her and telling her how he couldn't believe it as she was so hot. At that time, I thought "Wouldn't it be nice if these two got together: the neurotic and the guy who thought he was Joey's shadow when it came to women!" I loved it when they first got together and saw each other naked in bed and one said "I think this has effectively ruined our friendship" and the other replied "nah we weren't that close anyway" which was more funny as they were really close friends. I love the way Chandler was shown to mature as an individual from the start of their relationship to when she was freaking out over stuff that previously would have freaked him out, e.g. when they were in the hospital and she said she wanted to get pregnant and he said ok but she ended up getting freaked out instead, then tried the same thing on Joey just to get a freaked out reaction... Oh I could go on for hours! :)

• Portugal
1 Mar 07
I remember to see that scene but I've to say that the idea never occured me =) Chandler really grown up with Monica and I think it's just great. Thank you for your opinion!


• Portugal
28 Feb 07
Thank you for commenting! I didn't like Joey and Rachel very much because I always though Ross and Rachel were meant to be together ;)

• Philippines
2 Mar 07
Rachel and Ross. Their love story is like a fairytale, it ended "happily ever after".

• Portugal
2 Mar 07
Thank you for commenting =) I agree that their story is a fairytale xD But I still prefer Monica and Chandler.