The day of 1 March (baba Marta's day in Bulgaria)

Bulgaria
5 responses

• India
1 Mar 07
Nice to hear that this is a special day in Bulgaria which is celebrated as a symbol of health and long life. It also apprears that it is a traditional occassion. The gift items you have mentioned also sounds interesting. Thanks for sharing this with us. Wish you a very healthy and long life.

• Bulgaria
1 Mar 07
I am happy that sombody answer on this. In moust cases the piople don't care about such things. I can send you one picture of martenitci if you want. This is a holiday that you not just giving a presents, but you give them on people who are close to you (your heart), like family members, girlfriend or boyfriend, close friends or just friends. If you want you can give even on piople who just met. It is very nice to have present from unknown person.


• Bulgaria
23 Feb 10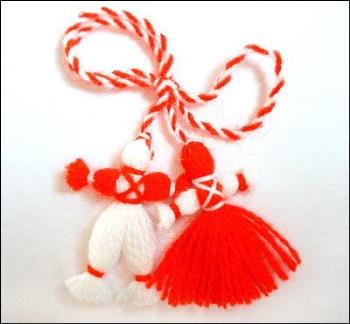 Hey, our grandmother Marta's day is close. We already bought our 'martenitci'

Wow, it sounds strange in other languege. March is comming soon and we just can't wait for 1st of March to come. I just send some martenitci to my friends in London. Here are the martenitci:

• Bulgaria
23 Feb 10
i think trere was a other name but to write in 3 years ago opened discussion is strange for me too , :) but in the rules :),that's great , i'm about to send only e-card for my friends that's not in bulgaria , but only because i don't know they street address happy myloting to d day and have a nice day :)

• Bulgaria
23 Feb 10
There is no matter how old is the discussion - it's an open discussion...

Happy myloting to you too and have a great Baba Marta's day.


•
28 Feb 10
hi! i really like to wear martenitzi and to celebrate this festival. it is one of the Bulgarian festivals, which are unique only for us, and no one else celebrate them!