Animal Cruelty

United States
March 1, 2007 4:08pm CST
I just talked with my aunt over the phone and she told me how her neighbor had poisened her 2 outdoor kitties and killed them. She can't necessarily prove it but she has been having other problems with that neighbor and the neighbor has threatened to kill her cats. I just don't understand people who could go around hurting innocent and helpless things. What do you think? I told my aunt that she needs to file an animal cruelty complaint with the local court system.
10 responses

•
1 Mar 07
Yes, I would do just what you suggested and file an animal cruelty complaint against these neighbours. There may not be any proof, but that doesn't detract from the fact that they have verbally and physically abused the cats, and shouldn't get away without punishment or reprimand of some type. There is too much cruelty in this world, not only to animals either, which goes unreprimanded. The only way to cut this down is to report every single incident you know of. Brightest Blessings.

•
1 Mar 07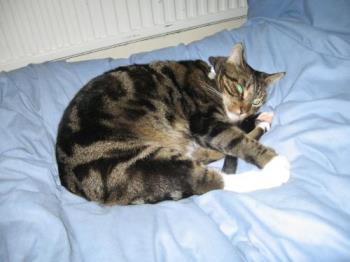 At the very least, if she has the proof, she should report the incident to the authorities and hope that they deal with her neighbour. There is no excuse for animal cruelty.

• United States
1 Mar 07
I think she most definitely needs to file a report. Animal cruelty is starting to be considered more important in crimes and if she has received threats in the past from her neighbor I think she has every right to file a report.

• Australia
2 Mar 07
Oh this sort of thing makes me sick, I don't really know why people hate cats so much, they are the only things today that seem to have any effect on controlling the rats and mice these days, well if your neighbour did do this I hope they get found out and get charged with something because it should be classed as murder....

• United States
2 Mar 07
that is very sad to hear. but unfortunately people are sick and sometimes do these things. she can try to file a complaint but there is no way to really prove the neighbor did it... but it might be a good idea to give the neighbor a scare witha a lawsuit

• United States
2 Mar 07
That is very sad for an animal being killed. what kind of neighbor mad man would do that. I feel sorry for animals even though i don't have a obsession for them. i recently learned about cattle brands and them putting a permanent burn on their cattle just to organize them. i also hear that the animal screeches out after it hits it. we should create a inhuman human society where what they do is start thinking about plans to help the animals in the world, prevent animal cruelty and extinction, etc.

• United States
2 Mar 07
Your aunt should report her suspicions to the authorities. Usually it's the ASPCA or Humane Society that enforces animal cruelty laws so you should have her call them and find out how to make a complaint. I also don't understand how people can be cruel to animals. We have a channel called Animal Planet and they have shows on called, Animal Precinct and I forget the other ones, but one's from Phoenix, Detroit, San Francisco and it follows the animal control officers around. It shows all the cruelty people have done to animals and I can't believe what some people do. One of my cats that I picked up as a stray last month had her jaw broken and it was never fixed. When I first got her I noticed her bottom fang was sticking out over her upper lip. When I brought her to the vet to see if she was healthy, he said her jaw was broken in 2 and was never fixed. She also doesn't like when my husband says, no, to her in a deep voice, you can see she is afraid. I think whoever hurt her was a man. Although she will go to him for petting and loving and attention, I think a certain tone of voice reminds her of her past. She is the most affectionate and loving cat and so smart and outgoing, I don't know how anybody could hurt her. She never puts out her claws to us even when she plays with us or wants us to put her down.

• United States
2 Mar 07
That is so sad. Ihave 2 cats but they are indoor cats for that reason. I dont trust anyone except my closes family. Your aunt really needs to report her neighbors even if all she has is the threats that is still considered animal cruelty.

• United States
1 Mar 07
I would defianatley file a report.I have no respect for anyone who would do any harm to something as helpless s these animals are.I don't know what makes some people tick!

• United States
2 Mar 07
I would definately file a report. My dad had one of his dogs poisoned when we lived in Arkansas. We never knew who did it, but the vet tests showed that he was poisoned. I would reccomend that she keep any other animals in the house where her neighbor could not get to them - at least they would be safe this way.