A tragedy for me!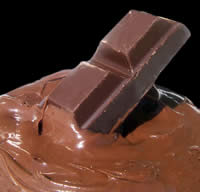 Italy
March 2, 2007 2:26am CST
about 1 month ago I felt not good. I had a strong headache for all day. thought of ditches an attack cervical, but a week later this. happened again. and I have noticed that he was always happening after drinking a cup of chocolate. therefore I have talked to my doctor who has told me that certainly I have an intolerance to the chocolate and that I must not eat for a long period. Consider that i love chocolate, expecially dark chocolate... what would you do in my situation? would eat the same one the chocolate or not? i'm not eating any kind of chocolate since 1 month and now i feel well!
6 responses

• United States
2 Mar 07
The only thing I can thik of it that I've hear that chocolate contins caffiene. It could be the caffine in it that casues your headache. You might want to check into caffine free chocolate 9not sure if they make that) or sugar free, organic.... Just keep trying until you find one that does not casue a headach. A better solution might be to ask your doctor about this.

• Italy
2 Mar 07
it is not caffeine, but something like. i think it is called "teobromina"... it is a stimulant of the nervous system and a vasodilator. i already asked to my doctor, but i don't think we can find a special chocolate without teobromina. to be honest i haven't seen anywhere! thanks anyway!

• Italy
2 Mar 07
omg! without chocolate... i would follow what the doctor told you, try to stay for a bit without chocolate, as you said you are well now, so try to keep on!

• Israel
2 Mar 07
Consider the fact that chocolate hurts your healthy, I think that you should stop from eating it, or find something that will past those headaches you have every time you eat chocolate. I know how hard it can be not to eat something you like very much. You have two options: 1. To find something else that you can love just as chocolate. 2. Keep eating chocolate, and to hope that there is any medicin that can past this horroble headaches you have. Good luck!


• United States
2 Mar 07
I fortunately don't have any sensitivity to chocolate but I can't eat too much because I have high cholestrol. My mother used to work at a health food store and she introduced me to carob. It tastes a lot like chocolate but doesn't have the fat and caffeine like chocolate. If you have a health food store in your town you might want to check to see if they have carob powder or snacks made with carob. My favorites were carob covered raisins and peanuts.

• Hungary
2 Mar 07
Oh, GOD! I have never heard about it, so it is a really news for me. I think I would eat chocolate, if I had the problem you have... I would take in a pill after the chocolate. I am sorry for you. Maybe only the hot chocolatet makes it, doesn't it? Perhaps not each chocolate. I would eat :) I would try which makes me headache, and which does not :) So you do eat and try. Try each which is available on the market :DD GOod Luck!