Friendship?

India
8 responses

• Delhi, India
27 Mar 07
Yes, I agree teddy bear is a symbol of friendship. Children feel very happy to hold teddy in their hands and feel secure.

•
27 Mar 07
yes i do think a teddy bear is a symbol of friendship. It is an enduring symbol that cuts through the ages. I will often give my children small gifts of teddy bears

• Malaysia
2 Mar 07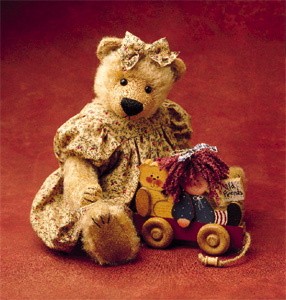 I agree that Teddy Bear is a symbol of friendship cos since primary school till now, I use to receive all kinds of teddy bear as gift for my birthday,christmas and etc.And those Teddy Bears I have received came in various sizes,as big as 3' and as tiny as 1" . I wonder who/which country has started giving out Teddy Bear to friends as gift which is now popular around the world.

• Australia
2 Mar 07

I think Bears a symbol of friendship I have a few given to me over the years and I treasure them... I see them as a lasting friendship reminder...

• Palatka, Florida
27 Mar 07
yeah i think teddy bears are very cute and I can see them repersenting friendship.

• India
27 Mar 07
Teddy bears are a tangible symbol of love, security and friendship. As children, teddy bears kept us warm at night and comforted us while protecting us from the monster under the bed. As we grew, they came to symbolize romance and love. At all stages of life, teddy bears represent happiness and safety and cheer us up when we are feeling lonely or sad. They are our constant friends, and the bond we develop with them is special.