Have you tried kissing an animal lips to lips?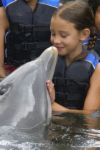 Philippines
March 2, 2007 12:07pm CST
I'm a dog lover but never tried to kissed a dog in their lips. But I have tried kissing a dolphin! When I was still 10 years old, my family and I went to see some dolphin adventures. I was not quite sure if it was a circus or something. What I can remember was the dolphins are in the swimming pool. The trainers then called kids ages 9-12 years old to ride on a small boat in the pool where the 2 dolphins would be the ones driving. Oh boy! I didn't hesitate. I went to the trainers directly. We were about 12 kids at that time and we were given a chance to kiss these dolphins too before riding the boat. It's such a nice feeling because dolhpins are harmless. I even find them cute and loving mammals. So, have you also kissed a dolphin? What animals have you tried kissing straight from your lips?
4 responses

• United States
2 Mar 07
What a precious memory! It sounds like you had an adventurous and fun childhood. I would be thrilled just to pet a dolphin, their flesh looks so smooth. Knowing the things my dogs eat and put their nose to I would hesitate kissing or letting them lick me. I about lost it when my brother-n-law once shared his ice cream with our dog, while he also was still eating it.

• Philippines
2 Mar 07
Woooohh! I can't imagine letting a dog bite my ice cream and bite that same ice cream too. I love dogs but hey! I can not just do that. lol Anyway, dolphins are so nice that if only they can sleep beside me in bed, why not? lol They're just so cute and after riding the boat where the dolphins were the ones driving, I just don't want to get out coz I still want more! lol. Funny as it may seem but I wish to see some dolphins again if ever I can go island hopping again. Thanks for the reply. Hope you can have a pet dolphin :)

• United States
9 Mar 07
That great you kissed the dolphins. I only kiss my wife on the lips. I'm sorry I just think lip kissing should be for humans only. But thats my opions. I do get and give eskimo kissses from my cat. My dog always wants to kis me on the lips but I think she has finally learned to only do that with the wife. Not me

• United States
9 Mar 07
I used to kiss my dog on the lips along time ago like when I was 16 up until I think I was 18 years old.I though about it though and thought where those lips have been and reconsidered.LOL.After that I have kissed no other animal on the lips.