Do you write your own crochet patterns?

United States
March 2, 2007 9:13pm CST
Do you write your own crochet patterns, and if so, have you ever been paid to have them published? I have written a few and posted them on Gather.com with links to them on Crochetpatterncentral.com. I enjoy sharing them for free, but have wondered about the process of getting paid for the patterns.
11 responses

• United States
3 Mar 07
I do not get paid for mine either. I make my own patterns for things around the house and give the pattern away to people in my community. I have never sold a pattern. That is really cool that you go through Crochetpatterncentral.com. I do more sewing and quilting than crocheting. I love to sew and quilt. I have not done much crocheting for a few years. I had carpal tunnel surgery a few years ago and my wrist and fingers have never worked the same.

• United States
3 Mar 07
Yes, I love using crochetpatterncentral.com myself, so when I had written my first online pattern, I asked her if she would link to it. Her site has brought several people to the pattern which is good news for me since Gather pays for having readers come to your posts.

• United States
4 Mar 07
I am a novice when it comes to crochet. I just finished a crocheted hooded sweater for my granddaughter. The arms were too long and the hood was a bit oversized. Her mother actually likes it, so I guess I didn't do too badly. My preference is to knit. I make sweaters that actually come out looking like a sweater!

• United States
4 Mar 07
Patterns???? What are those? Just joking, I'm afraid I taught myself to crochet 30 some years ago by watching someone else - since then I've used a lot of trial and error. I tried reading patterns but because I don't know the names of stitches I'm lost - at most look at the pictures of the finished product and attempt to recreate. I would like to learn more but have spent more time trying to learn than I did just making up my own. I really should learn though - I crochet and sell baby afghans and matching pillows. Just this week I had a lady order 3 sets but also asked if I could do booties, hats, and sweaters to match. I can't, I've tried and they never turned out right. Whew - back to the topic. I have a great awe and respect that you can write patterns. I think if you got an account with eBay you might sell your patterns there I've seen a lot of people doing that. I have my own web site and sell my afghans from there - I accept severel different forms of payment, paypal, money order, personal checks. http://byfaithonly.com/HomeMade/


• United States
22 Mar 07
I have been thinking of trying to sell my creations - but had not thought about selling patterns themselves. I'll have to think about that. about how much do you sell a baby afghan for?

• United States
2 Nov 08
Ive never heard of Gather.com . I have done some of my own patterns but usually as I am going along and decide I want to do it MY way instead of this pattern so I note it. ha! Fiath you do some pretty work, enjoyed looking at your site. Do you do well selling online?

• United States
9 Jul 09
Yes I write my own patterns & have had a few published. I was paid for pattern it self, which means that I sold my rights to the patterns and can not sell them myself. If I ever want my rights back to them I'll have to buy them back. here's a link to the designer guidlines www.crochet-world.com/designer_guidelines.php and here's a link to the designer guidlines for crochet magazine as well as House of White Biches hard back books ,The needlecraft shop hard back books, and Annie's Attic pattern books. www.crochetmagazine.com/designer_guidelines.php I hope this answered your question Good Luck & Best Wishes!!! Hugs, Cassie

• Philippines
24 Jun 08
can i do that? i mean sell my patterns on the internet? becuase i have crocheted some nice things like dog leash and hats for dogs and even small teddy bears that i just made up on my own. maybe someone would be intersted in those patterns that i've made. do you think?

• United States
20 Jun 08
I would like to write a pattern for something cool. So far I haven't had the time what with writing articles and mylot. I may try it for fun.Thanks!


• United States
20 Aug 07
I cannot read crochet patterns so I usually make my own. I find it is a lot more fun doing that. I am going to start writing my pattern down and maybe sell them in the future.

• United States
22 Mar 07
I have written my own patterns in fact I have one on my website that I offer for free. I have sold many items off this pattern when I first wrote it and made probably what I would have been paid for it at least all those years ago.I know that most crochet magazines will gladly tell you how to get your patterns considered for publication. One day I may venture into the area of designing patterns to publish them. My website is www.freewebs.com/grillmama

• Kuwait
19 Mar 07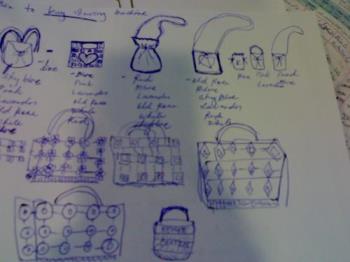 i never tried to write my own crochet patter since i dont usually use pattern, if i do crochet, i just use my imagination to stimulate and create a new design, is this bad?i usually make bags, but now i have new piece working on, i have my blouse which is hopefully be a real blouse and come out to be nice too.

• United States
6 Mar 07
i am best put as "pattern impaired" so i just take some really good pictues of my projects and figure it out again if i want to do it. I am in the process of creating a website for others that are "pattern impaired". It would be set up as if a person was telling you how to do it. Not all the confusing codes. great for beginners and my projects only have 3 types of stiches!