Will you take Garfield as your pet?

Philippines
9 responses


• Canada
5 Mar 07
sure would if garfield was a real cat i wouldnt think twice of owning him i think hge is so cute and adorable even though he is lazy as hell. he would fit in well with the cats i already own cause they are lazy and seem to get there own way to.

• Philippines
5 Mar 07
I really love fat and lazy cats they are adorable.

• Ireland
3 Mar 07
There is no way I could keep that cat in lasagna, and I wouldn't want to be on the receiving end of his cannonball jumps. I doubt my dogs would be quite as tolerant of him as Odie is, either.

• United States
5 Mar 07
I have always loved Garfield. He would fit in with my 2 crazy dogs...Of course I would have him as a pet !

•
3 Mar 07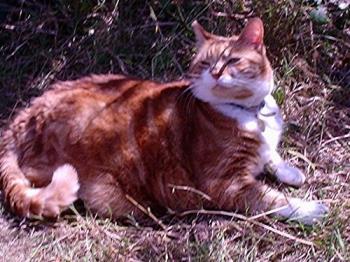 Well I have 5 cats, and 3 of them are ginger, so I think I have enough Garfield look-alikes to be going on with!!! I definately feel that ginger cats have more "personality" than some others, and my cat Wilby is extremely like Garfield in his looks, and personality! Here is a picture of him - fat, feisty, and adorable!

• Philippines
4 Mar 07
I could just imagine if you have 3 garfield look alikes running around the house :) hahaha....Wilby is so cute and fat but really charming.

• Canada
3 Mar 07
i love Garfield..beside fat and lazy it is just sooo very cute too. if it would be real then i would love to have him as my pet.

• United States
3 Mar 07
Absolutely! He would make an awesome pet to have. Id have to have an Odie to though. :)

• United States
3 Mar 07
Yes definitely!! He would be a wonderful pet...all silly and dramatic!!


• Philippines
9 Mar 07
though im not a cat person, i'll take him in! he's fun even though his a lazy fat cat.