Tell me what you think of this picture. (correction!!!!)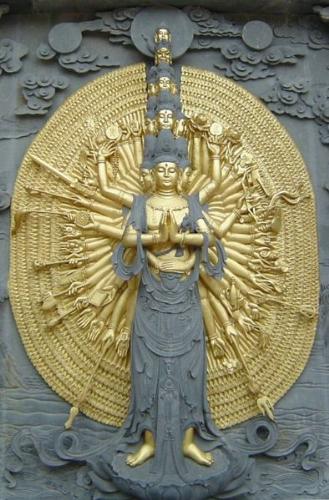 United States
March 3, 2007 11:29pm CST
SORRY FOLKS I DID IT AGAIN! Below is the picture.
2 responses


• United States
11 Mar 07
WOW, very touching description. What other experiences have you had like this before and what were you doing or where you when you experienced it?

• Libya
4 Mar 07
Hi ! I think it represents a good sculpture effort , I have always been intimidated by the multiple arms concept , it does not strike me as the possibl appearance of a Deity . I do not know how to meditate ,but using the original meaning of the word "contemplate" ,I could not arrive at any abstract values , I keep thinking of it as a PICTURE of a STATUE . What do you think ? Am I obviously biased ?

• United States
5 Mar 07
No, bias isn't what I would call it. Just perhaps not open. Then again I don't know you and nothing in your post clearly indicates anything I can read about how you are in response to this on personal level. Meditation is not contemplation though it may include contemplation. Meditation is manipulation of one's own awareness to focus steadfastly on a something for a prolonged period of time. This prolonged focus causes in increased awareness of the focal point and when directed toward an aspect of one's self also leads to greater more authentic control or yourself. It also has a cleansing effect on what ever the awareness is focused on within the self. For instance if you meditate on your breathing your breathing becomes deeper and more steady. If you meditate on your mind then your mind becomes clear, sharp, and you can control how you think more easily. This means you can call forth inspiration more quickly, you can think faster or slower, mental gymnastics you would never have considered become possible, and you can let go of or call forth particular thoughts you wish to think. But this is comes with practice. In the beginning meditation may or may not bring some or all of this, it depends on the person. Most definitely though you will experience some pleasant peaceful states of mind. It is a great way to let go and destress at the end of the day. I use it to help deal with my anxiety. It isn't a cure though.