Rescue dogs or secondhand pets what do you consider it?

United States
March 4, 2007 8:09pm CST
We worked with rescue Goldens and took a golden that we intended to retrain and find a home for.She is here still although we rescued her 4 years ago. Then last August this guy told my husband that he was going to shoot his black lab because he was so stupid.Well,you can guess who owns the dog now.Actually all his "stupid" behaviors came from abuse and neglect.He no long goes to the bathroom in the house,he no longer barks 24-7,he doesn't tear things up anymore or snap at people anymore.He is now a part of our family,sleeps in our bedroom with the 2 goldens we have and is becoming a good dog. Here's a thought.The rescue word is used so much now and it is being used to take peoples pets away from them when they fall on hard times.Both dogs we took the owners did not want them.But if someone truly loves their animal and are trying to care for them but can not for whatever reason,why not try to help tht person feed or care for the animal until they are on their feet.Many times animals are taken from their owners only to give them back because of lack of evidence.So rather then clog up the courts,used taxpayers money collecting animals etc,why not use half that amount to educate the person in proper care of the animal and help them until thay can do it themself. I am not talking about abuse.Anyone that abusesan other living thing deserves to loose it! I am only speaking of mild neglect.The not starving to death but could use food more often animal or the horse that has gone too long without a hoof trim,or that uncombed matted up cat . What are your thoughts?
5 responses

• United States
5 Mar 07
We have a beautiful collie that we got from Collie rescue. She was going to be put to sleep due to the fact she had non-contagious mange. All her hair had fallen out and she was covered in sores but she still wanted to play. The vet called collie rescue. Once she was better we were able to adopt her. Her previous owners had allowed her to get that bad and then was goign to put her to sleep just because they couldn't show or breed her. To me she's a member of our family and I could care less about showing her or breeding her. I agree there are some who due to either lack of education or due to circumstances beyond their control due end up having trouble taking care of a pet. It would be nice if there were ways for them to get the help at reasonable prices or even free. It would help many people and easy up the case loads for the states. However there are some though that really shouldn't be owners. For example the woman we got our dog from, the one who was the contact for Collie rescue in our area. She is one of those I question on owning animals. She lived in the city and had 6 collies of her own, they were all debarked (something I don't really like but it's legal) and when we got our dog she warned us she was territorial about food. Well we found out why when she gave us a few days worth of food with her. She said to give her an 1/4 of a cup of the food. Now this was dry food and it was maybe a handful at a 1/4 of a cup. I'd be territorial if that was all I was getting in a day too. We give her a bit more then normal amount of food but she shares it with the cats. Yes this territorial dog stands beside the cats and eats out of the same dish.

• United States
5 Mar 07
Thank you for sharing your story.I also have known breeders like the one you speak of.I don't call them breeders.I call them puppy millers. Some people don't care about pets only what they gain from them. I'm so glad that you have your beautiful collie.You will have years of enjoyment with her.

• Canada
9 Mar 07
That was a great story. Sounds like she fits in with your household. That's great. I think collies are very pretty animals. Did her hair ever grow back in?

• United States
11 Mar 07
Thanks :) She is wonderful to have in our life. Her coat has grown back to about half length. It got to about 3/4's at one point but then she had a flare up of the mange again but since then she's stayed about 1/2 the legnth it should be. She's beautiful though. There is a picture of her in my profile if you'd like to take a look :)


• Canada
5 Mar 07
It sounds like you are doing a wonderful job. Good workd on that black lab. I have a cat and he means so much to me. If I had trouble taking care of it and someone tried to take it away saying I was neglecting it would break my hearat and I wouldn't be able to deal with it. He is a part of my pleasure, sanity, relaxation and health.

• United Kingdom
11 Mar 07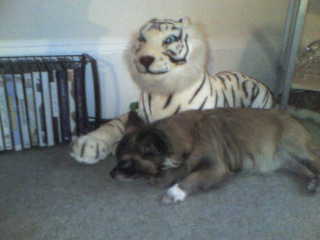 I agree with you Raydene. I have a little Dog and I got him out of Kennels 2 years ago. He was one very scared Dog and only trust me. According to the Kennel he was brought in by the Police who found him on the Side of the Road beaten. He had been in the Kennels 4 months and had never gone to anyone till I went there and I was the first Person he went to, he is now the loveliest Dog you could have. I have got a Discussion going called Gissis Story

• Canada
7 Mar 07
I think you have an idea there. What about if we have a food bank for animals as well as adults? It is not fair to lose you precious pet just because you fell on hard times. You are not abusing the aminal. I think the animal control should look at this istead of removing animals. If it is due to a finical strain right now, help them with some food. They would have to feed the animal for so long before they could put it down.