Have you celebrated Holi?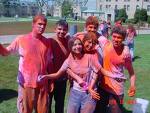 India
March 4, 2007 10:48pm CST
Holi the festival colours was celebrated all across India and by Hindus around the world, yesterday. It is the festival of colours and marks the following:1.Start of Spring 2.Love of Radha & Krishna So how did you all celebrate it? With your families or friends or all alone? Please share your experiences. As of me, I celebrated it along with my family and freinds. We had a huge gatjering of our locality in the open ground and danced to the famous Holi numbers from the Bollywood masala.
No responses