please suggest variations for my kid's baon

Philippines
6 responses

• United States
9 Mar 07
Try this: NIBBLE MIX (make in advance for NOW healthy snacking) 6 c. bite-size shredded corn squares (2 c. each of corn cereal, rice cereal & wheat cereal - CHEX) 3 c. thin pretzel sticks 1 (3 oz.) chow mein noodles 1 can mixed nuts (optional) 1/2 c. melted butter 3/4 c. grated Parmesan cheese 1/4 tsp. Ranch dressing (dry) Put the first 4 ingredients in a large cake pan or baking dish and bake at 350 degrees for 5 minutes. Remove from oven, pour melted butter over the mix. Sprinkle with cheese and dry seasoning. Mix well. Return to oven and heat for 15 to 20 minutes. Makes 12 cups. Store in a plastic or glass container with a tight fitting lid in refrigerator when not useing. If desired warm, heat in microwave for 10 seconds on HIGH.

• Philippines
5 Mar 07
Hi there. I think hotdogs are not good for children always. Hoe\wever, for starters, maybe you can make the hotdog as part of a waffle. then gradually wean your child into filling it with other healthy options.

• Netherlands
5 Mar 07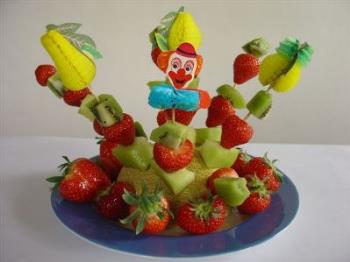 I think it will be difficult if you stop giving him hotdogs at once. Try one step at a time. Slowly cutting the numbers of wieners you give him. If you usually give him 3, next day give him only two and maybe slices em to small pieces and mix them with fruit or chicken or even vegetables in a form of satay. Make it fun for him, maybe he can also help to prepare his snack. Good luck.

• Philippines
5 Mar 07
It is not good to give kids company previously prepared foods like hotdogs and sausages. Any nutrionist and health doctor will tell you that. Try making some home prepared and cooked beef or pork chorizo. It's very easy to prepare. Just buy pork or beef and have it ground. Buy also ginger, garlic, tomatoes, spring onions, corn starch and other add-ons you can think of. Estimate appropriate amounts of each ingredient then mince them well, mix them all in a bowl add salt and sugar to taste. Wrap in plastic sheets in rolls and you now have your skinless chorizos. Better tasting and much healthier. Explain to your child the good things about eating healthier foods before it is too late. The nutrionists and the people in the health department must have some reciopes to share which are very appealing to children.

• United Arab Emirates
5 Mar 07
Honestly, I would suggest you cut down on the wieners. They have a lot of preservative and a high percentage of salt. I am not sure of what his other favourite foods are, but, I suggest you try giving him something else out of his list of favourite foods while you wean him off the wieners.

• United States
5 Mar 07
Hotdogs all the time aren't too healthy. Full of lots of nitrates. I'd try introducing him to other meats, like chicken, fish & beef. It might take some time, but you have the power to change his habits. It's easier now rather than wait until he's older.