Do friends add anything?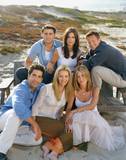 United States
5 responses

• United States
30 Mar 07
I have found that as long as I am interested in their discussions that adding people as friends is very helpful. I spend most of my time in the discussions my friends have started tab. It is so much easier to find discussions I am interested in. I also find that my friends, in return, respond to my discussions. All of this together adds up to more money for me and for my friends :) I don't just add people though I make sure I will be interested in at least one of their discussions first.

• United States
30 Mar 07
I always check first as well... especially to keep away from spammers !!!

• Australia
30 Mar 07
I know this is an old discussion but I thought I would drop in and say it doesn't really matter how many friends you have on here as long as the ones you do have are god friends! I only have about fifty and that isn't many compared with some, but I like to always check their discussions and answer most of them. This helps you to get some more cents andhopefully we can all support each other with advice and soe fun discussions as well. Good to be your friend misheleen!

• United States
30 Mar 07
good to be yours too Missy... I choose quality over quantity any day...


• Israel
5 Mar 07
First of all, welcome and i'm sure you will have great time here! Adding friends to your friends list is good, and you can make friends by doing it. It also can increase your amount of responsding. If you see on the left side of the page there is an option called: "Discussions my friends started". When you press on it, you will see a discussions that your friends opened, and then you can response to them.

• Australia
5 Mar 07
I am pretty new here myself , just over a month. I'm also the shy type. I have a few friends, all but one of whom have asked me. I don't know if it helps, but some of them respond to my topics and I often have a look through theirs and respond if their topic interests me.

• United States
5 Mar 07
that's what I have been doing. Sent you a friend request.. one shy person to the next :)