The Parent Law...!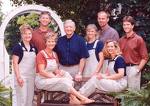 India
March 5, 2007 4:46am CST
Government of India is proposing a bill wherin a person can be sent to jail for "neglecting" his or her aged parents. Children after marriage tend to center themselves round their wife and kids.Parents get a rough treatment and it is really a sad. Do u think this law will really help to old age....? Share ur opinion...!
8 responses

• India
7 Mar 07
We definitely got to take care of our parents.But bringing up a bill of this sort is definitely not the government's concern.The government has much more important bills to be passed concerning corruption than to bring something like this.One should realize the responsibility to take care of parents automatically, it should never be forced.If it is people would not take care of their parents out of love it would out of the fear for law.

• India
5 Mar 07
what i dont understand shilp is how people become so insensitive towards their parents, they forget that they have to set good examples for the next generation, so instead of caring for their parents, they abandon or ill treat them, the bill may in some cases be helpful, but still there will be lot off people who will easily skip away, i think it is important that they realize their duties and care for their parents, govt cannot force them to respect their parents.

• United Arab Emirates
5 Mar 07
I think this is an excellent idea! A lot of children leave their aged parents to fend for themselves, and it is not fair, especially in a country where parents work very hard all their lives to provide the best for their children. When the parents die alone, there are a lot of people lining up to collect on the inheritance, but not when they are alive and need a helping hand. I think the government should also look into providing for people who do not have any children to look after them. These people have worked hard all their lives and need a helping hand when they are old and helpless. Many of them are not poor, but alone and they need a little bit of attention. Someone to check on them, make sure their needs are met.

• Delhi, India
6 Mar 07
It appears that you have some connection with Government of India's Law Department................(just joking)? Have you aksed this question, so that Govt. of India could draft a useful and effective bill? I have not read about it, but if there is such a proposal, it is not a bad idea. It is becoming very true that children after marriage tend to ignore their parents, and this tendency is increasing day by day. People are forgetting their values and are becoming self centred (God knows what will the next generation is going to do with their parents?). So if this Bill is passed by the Parliament, in my opinion, it would surely come to the rescue of old age persons, and this type of move on the part of Indian Government must be applauded.

• Delhi, India
7 Mar 07
So you were checking our G.K. regarding Govt. of India laws? Thanks

• Pakistan
5 Mar 07
ooh yes i think we are having same problem in pakistan :) they are not doing any thing :p i hope in future tehy do something to stop this nonsence

• India
5 Mar 07
No parent can wish their child suffer from law so it is very difficult that if some one neglect his aged parents his parent will lauched an FIR againest his own child but it can help them. I want that these law should be implemented.

• Singapore
5 Mar 07
It may not help the kids love their parents more - maybe hate them instead. However, it would at least make sure the parents at least have the law to turn to. At least they won't have to starve.

•
5 Mar 07
I think this is a great idea. Our parents do a lot for us and it is only fair that we look after them in their old age. I'm not sure how the Government would enforce this rule though, especially if you didn't have the money to look after them.