Has anyone tried making their own wallpaper for their walls in your home?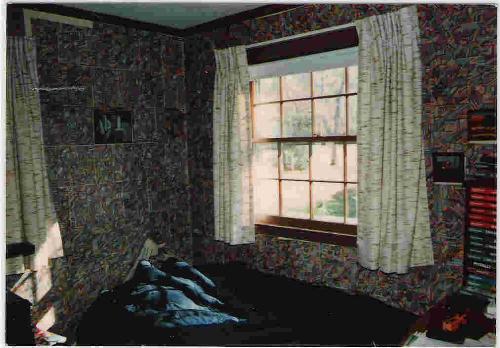 United States
March 5, 2007 6:17pm CST
Are there any artistic people who have actually created their own wallpaper for the rooms in their home? Do you normally buy fancy wallpaper? I have actually used my artwork as my bedroom wallpaper when I was younger and lived with my parents. If you have seen my artwork, you will recognize my designs. People that came by and visited thought is was really cool but wanted me to warn them next time to wear their sunglasses because of the bright colors. :-) Here is a picture of my wallpaper in my old room.
9 responses

• United States
7 Mar 07
I LOVE IT!!!!!! It is so creative and awesome. Thanks for helping me to get to this post. I am giving you another + rating for it. Wow, you are so very talented. As an artist, I am very impressed. Thanks for sharing it.

• United States
7 Mar 07
You are very welcome and glad that I could help for you to see it. I was going through my photo album to see what pictures I could upload and found this picture of my bedroom when I was living with my parents and remembered how I did this as well as my other materials.

• United States
8 Mar 07
Ken, you are very creative. Is art your full time job?

• United States
11 Mar 07
Actually, I have not done any artwork in at least a year. I lost the motivation of doing my artwork after trying to have my own business and website like you have now and not being able to sell anything. I just went to the store today and got some 11x14 posterboards and markers and am starting up again today.


• Singapore
6 Mar 07
Nope, not me. My walls are just painted with a single colors. However, I do paste inspirational quotes on them. Oh yes, some of those ribbons I won too. ;-)

• Singapore
13 Mar 07
Yes, I think that would be a very good idea. Why, if you ask me, I think you might even want to sell them! ;-)

• United States
6 Mar 07
My daughter decorates her room with wrappers from things. Pop Tarts boxes, Little Debbie boxes, gift cards, art work, candy wrapper, cereal boxes, Cheez-It Boxes, and much much more!!! It is actually pretty awesome! I'll have to take a picture to post it some time.

• United States
6 Mar 07
I know you want to know about people making beautiful wall paper but your discussion brought back memories for me. When I was a child, we lived in a house that did not have insulation in the walls. We used cardboatd and paper bags to put on the walls to keep the cold out. I am off to see your paper now.

• United States
6 Mar 07
I am not artistic in that way..I love to write poetry .and sketch with a pencil..I think if I tried to make wallpaper it would never make it to the wall..but be glued to the floor..Hey.not a bad idea;) Never knew you were an artits..kuddos to you:)

• United States
11 Mar 07
That is pretty cool, but a little busy for my taste. I like the colors, though. What a neat idea! I've done sponge painting on walls and thought about but been too chicken to try a mural...afraid I'd mess it up. Thanks for sharing the great idea!

• United States
6 Mar 07
Do magazine pinups count,lol? When i was younger I had used pinups from heavy metal mags to cover two of my walls and my ceiling. When I mean cover,I mean cover ! My ceiling and the walls were literally covered with them,you couldn't see any of the walls at all.Of course that didn't last long-about a couple of months then I took them down. Your wallpaper pic was really cool and I wuold love to know how long it took you.

• United States
6 Mar 07
Of course they count as they are artwork and used to decorate the walls with. :-) I used to hang up pictures from heavy metal magazines as well as some mens magazines as well. :-) I do not remember how long it took me to do it. It took me a long time to do all the artwork though.

• United States
12 Mar 07
Pretty creative! I have never attempted to do anything beyond painting a wall. My artwork resembles Picasso. My siblings on the other hand could do quite well. their artist renderings are quite lovely.

• United States
12 Mar 07
I love that idea!! And it is something that I would so love to have the time to do. This must have taken a long time for you to design and put all of that together so it worked. It is amazing!!