Is Piggery a best Business

Philippines
October 16, 2006 3:42am CST
I am planning to raise piggery, is there a big profit?
3 responses

• United States
26 Oct 06
I have been in hog barns before. The pigs may be clean, but they still stink. Plus, there is a lot of controversy here in Iowa about where to allow the building of hog confines. If you are unlucky enough to live near where they build one, your property value drops to nothing because of the smell. You can smell one of those miles away.

• Spain
26 Oct 06
What smells though, the animals themselves or their droppings or their food? I mean, how come pigs smell and cows for instance don´t?


• Spain
26 Oct 06
There could be depending where you live, how far you have to ship your meat, if you can afford start up costs, how much you know about breeding and keeping pigs already. All I know is that pigs eat nearly ANYTHING so if you let local assassins feed their unwanted corpses to your livestock you could make thousands in hush money and save precious dollars on pig swill. OK that last part, while technically true, is slightly tongue in cheek.

• Philippines
11 Dec 07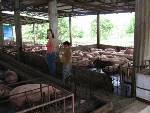 Piggery is a big business and some make big profits. It depends on how you manage the piggery to be able to gain big profits. It smells and it's very difficult to take care of pigs. Housing pigs is also a big problem and entails a big amount of money.