do-it-yourself playthings for your kids

Philippines
March 6, 2007 4:32am CST
Parenting involves a lot of innovativeness. With kids having attention spans so short, we need to think of ways to keep them occupied but safe. Part of being a parent is finding odd things at home to turn into safe toys for our kids. I remember collecting all sorts of bottle caps and bottles of different shapes just to keep my little one preoccupied. There was also a time I turned toilet paper cardboard tubes into telescopes and whatever so my kid can enjoy playing with them even for just a few days. Our pots and pans have already served their purpose as musical instruments for my son. I'd like to know what other innovative things you've thought of for your kids to play with. My son is just 1+, but my neices and nephews who are older drop by often, I'd like to know about more stuff we can turn into toys.
4 responses

• Philippines
6 Mar 07
have you tried making home made playdough?it is safe for your kids since all the ingredients is just in your cupboard! this modeling dough is easy to make and store. let your kiddo help you mix and knead the homemade dough. Quick salt dough 1 cup flour 1/2 cup salt food coloring 6-7 tbsp. water 1 tbsp. vegetable oil combine flour and salt in a medium-sized bowl. use food coloring to tint water as desired. add tinted water and oil to flour mixture. mix well. refrigerate in an airtight container when not in use. cornstarch dough 3/4 cup corn starch 1/4 cup water food coloring pour cornstarch into a large bowl. tint water with food coloring (if desired) before combining it with cornstarch.mix by hand to form a soft dough. modelling dough 2 cups boiling water 2 tbsp. veg. oil food coloring 2 1/2 cups flour 1 cup salt 1 tbsp. cream of tartar combine boiling water and veg.oil in a small pitcher. add a few drops of food coloring as desired . set aside. in a large bowl, combine flour,salt,and cream of tartar. add water mixture and stir until stiff. knead until smooth and pliable. refrigerate in an airtight container when not in use. its summer so why not make icy paintings? what's more cooling thasn ice on a hot day?for refreshing fun, let your toddlers use frozen paint. mix powdered tempera paint and water to a thick consistency.dip craft sticks in the thick paint and then freeze them on a baking sheet lined with waxed paper. when the paint is frozen,let your children smear the frozen paint sticks on white construction paper. encourage them to notice what happens as the paint melts. you may let your kiddos make circle or flower prints with cuts of potatoes,oranges,or other fruits and veggies dipped in paint. have fun!!

• Australia
6 Mar 07
Your frozen paint idea reminded of something else I used to do and the kids loved. This is an outside activity, just get a paint brush and a cup of water and simple let your child paint away. It doesn't matter what they paint as it is only water they are painting with. It was a huge hit with my children.

• Philippines
7 Mar 07
Great post you got here for parenting ideas! I used to cut-out bumblebee pictures and stick the on a cardboard then putting a string to make a mobile for my little girl. She's only six months old now but since she started pulling things so sha can stand up or sit up I had to remove them from the end of her crib. Now we play with colored paper cups. I put 1 cup on each of her hands and she would just clap her hands together.

• Australia
6 Mar 07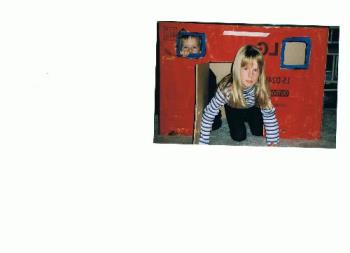 Kids just love boxes, expecially ones that they can get inside. I once made a cubby house out of one, my children had a great time with it and it lasted about 3 months. Another great idea is take some clothes you don't wear anymore out of your wardrobe and let them dress up in them.....they love it.

• Australia
6 Mar 07
Yes I remember when I was a kid I was always making things out of empty boxes and anything I could get my hands on, but kids don't seem to do things like that anymore...I started a section in My Interests with a lot on internet crafts which I would have loved when I wa a kid, it would be good to see kids just being kids again...