How To Keep That Toliet Seat Warm!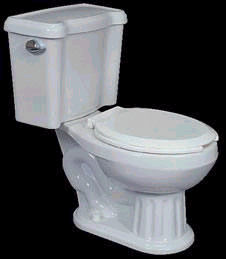 United States
March 6, 2007 4:22pm CST
To some this may sound as if it is a joke, but it's not a joke. So if any jokes are posted they will be rated negatively and reported. Being a woman, I have to sit down to do my bathroomly business, but each time I sit down to use the toliet it feels as if my bottom is gonna freeze right to the seat. It don't matter if it is the middle of winter or the middle of summer that seat is ice cold. Now mind you I don't mind it so much after I have awakened and have come to my senses, but when a person is first waking that sudden jolt is not a welcome thing. I have tried things ranging from placing a portable heater close to the toliet to covering the seat as best I can with layers of toliet paper (but this becomes burdensome when a person really has to go, not to mention one tends to go through a lot of toliet paper using this method time and time again). Unless a heated toliet seat is invented sometime in the very near future, I am all out of ideas on how to keep the toliet seat warm. So needless to say any and all ideas are welcome.
4 responses

• United States
7 Mar 07
I have a wooden oak toilet seat. it never gives me that cold shock. There are also those soft material toilet seats. I don't care for those, they are harder to keep clean. try a wooden one, madeof good solid wood. And , no, I have never gotten a splinter....LOL

• United States
7 Mar 07
Thanks for responding. I did use to have one of those soft toliet seats, but I hated the darn thing, cause not only were they a pain to clean right, but it seemed they never lasted all that long. I'll have to look to see if I can find a solid wood toliet seat. Though with my luck I'd probably find the one that would give me a splinter..lol

• Canada
28 Mar 07
I aggree 100% fpd wooden toilet seats ROCK! They stay warm and they are just as easy to clean as the regular ones!


• United States
7 Mar 07
I know what you mean...lol You can get an oak toilet seat at most department stores these days. You can also get them at building supply stores. They can range anywhere from 10.00 and up. I got mine at walmart for 19.99 and it's oak. It's still cold but not that frostbite feeling cold..lol Good luck keeping your buns warm..hehee

• United States
7 Mar 07
I found an interesting link for comfy seats..lol http://www.comfyseat.com/

• United States
7 Mar 07
Thanks for the luck, I'll need it.lol I will have to check my local Wal-Mart again to see if they carry oak seats. It's not something I readily noticed, cause let's face it not many make it a thing to really look at toliet seats, unless they are really needing to replace their old one. After this morning and the shocker I got, that heated toliet seat is sounding really nice..lol

• United States
28 Mar 07
Lol, I never knew people really voiced their opinions about this, lol. But you do have a point though. In my home it's never really been a problem, maybe only in the winters the toilet seat can get pretty cold and like you said, a sudden cold jolt is not a welcome thing, especially in the mornings. Seems like some have some good advice about the wooden toilet seat though.

• United States
29 Mar 07
lol I debated with myself for awhile before coming to the conclusion that I would post this discussion. I had run out of ideas like stated to keeping mine warm and it was becoming rather bothersome to be suddenly jolted awake, because of a cold toliet seat. Sometimes I really wonder about myself with the things that toil around in my head.

• Garden Grove, California
10 Jun 08
My mom used to have a soft chenille like toilet seat cover that really did keep the seat warmer. I wish I could find one of those now. I too hate to sit down ]on that cold enamel surface, and its always cold no matter whetherits summer or winter too. I am glad to hear I am not alone in this dread.