Can love be stupid?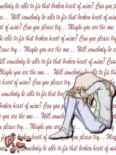 Philippines
March 7, 2007 9:46pm CST
Way back couple of years ago, I used to believe that love is a sacrifice. I cried a tons of tears and accepted all the physical and emotional abuses by my ex boyfriend. At that time, all I've been thinking was to sacrifice everything because of love. But now, I realized, It wasn't love after all. Hou about you? Do you think love can stupid? You've sacrificed everything and yet ended with pain, more so, with physical abuses.
2 responses

• Philippines
8 Mar 07
Love should not be stupid in the real sense. It's just that sometimes we don't really understand what love really is. There are just instances that we let things happen and then sometimes think of it as something stupid because we do it because of love. Remember that everyone is responsible for his or her own actions. Since it was your choice to stay with him still despite of the physical abuses, you have to suffer the consequences. But don't feel very hopeless. We might not fully understand the things that are happening around us. One's thing's for sure. THere's always this person who will love you faithfully and wholeheartedly. Hope you find that person already. Cheers! :)

• Philippines
8 Mar 07
No. I dont think its stupidity to love like that. You did a very good job! You give your best. And love as if you never love before. I'd be wiser, next time, though. But I would still give my best shot!