How to have the best interracial and/or intercultural relationship!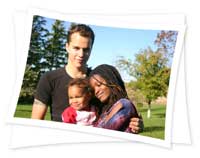 United States
March 7, 2007 10:02pm CST
My father was a dark, olive-green complexioned Italian-American. Mother was a light-skinned Turk. This is what they call interracial back in the mid 20th century. My parents went thru hell with familyand society and when 3 kids were born (all with mum's light skin), people didnt know how to react. I heard all the racial slurs applied to my father, including the "N" word, so did they. However, it only made their bond tighter and each overcame the other's cultural differences as well because they loved each other enough to do so. My late husband was from Pakistan. I went there to live to learn his life because he spent enough time in the US to know mine here. If you marry someone of another race or country, you have to start compromising and adapting to new ideas and make them your own on both sides. Just like my parents did and I did until my husband was killed in an car crash. As for worrying about what the rest of the world thinks - they'll get over it. Use your energy to keep yourselves focused on building a positive relationship.
No responses